Matcha Hemp Body Wash
Antioxidant-packed Hydrating Body Wash
Details
Ingredients
How to Pair
Recycling Guide
A limited edition hydrating body wash made out of our own waste!
Our Waste is Our Treasure
As we began the process of improving the formula of our beloved Matcha Hemp Hydrating Cleanser, it is best practice to do a pilot production with any new formula before going into mass production. After one pilot production to another, we just couldn't get it right. With all the pilot batches basically rejected, we had over 10 bathtubs worth of cleanser gone wrong that we either had to throw the bulk away or do something about it. So what did we do? We turned lemons into lemonade (or green tea leaves into matcha) and started reworking the bulk, and… Voilà: our limited edition Matcha Hemp Body Wash was born. Packed with antioxidants and hydrating ingredients, Matcha Hemp Body Wash is the perfect gentle cleanse made for your body.
Cannabis Sativa (Hemp) Seed Oil has not been officially approved for cosmetic use in Malaysia or Singapore. Because of this, our Matcha Hemp Body Wash is not available for purchase and can't be shipped to Malaysia or Singapore.
PETA-certified vegan and cruelty-free.

Matcha: Potent antioxidant properties, with added hydrating and soothing benefits.
Hemp Seed Oil: Rich in Omega-6 & Omega-3 fatty acids for moisturizing properties.
Oats: Soothes irritation and reblances stressed skin.
Step 1: Clean and separate! Before recycling, make sure you rinse the cap so that it's completely free of product. It's important to separate the twist cap from the pouch.
Step 2: Investigate! The pouch is made from virgin mixed-plastic. Unfortunately, it is not currently recyclable throughout most of the US, Canada, Australia, and New Zealand. The cap is made from virgin PP [5]. PP is a "rigid plastic" so it can be recycled through some curbside programs. We recommend checking with your local recycling!
Step 3: Recycle (the cap)! If your local recycling program accepts type 5 plastic, feel free to toss the cap into your recycling bin.
Materials Used
Twist Cap: Virgin PP [5] Rinse and recycle
Pouch: Virgin Mixed-plastic [7] Throw away (can't be recycled)
SKINSTRUCTIONS
How to Use Your Matcha Hemp Body Wash
Apply to wet skin, lather with lukewarm water and rinse. Use a washcloth or loofah for extra lather.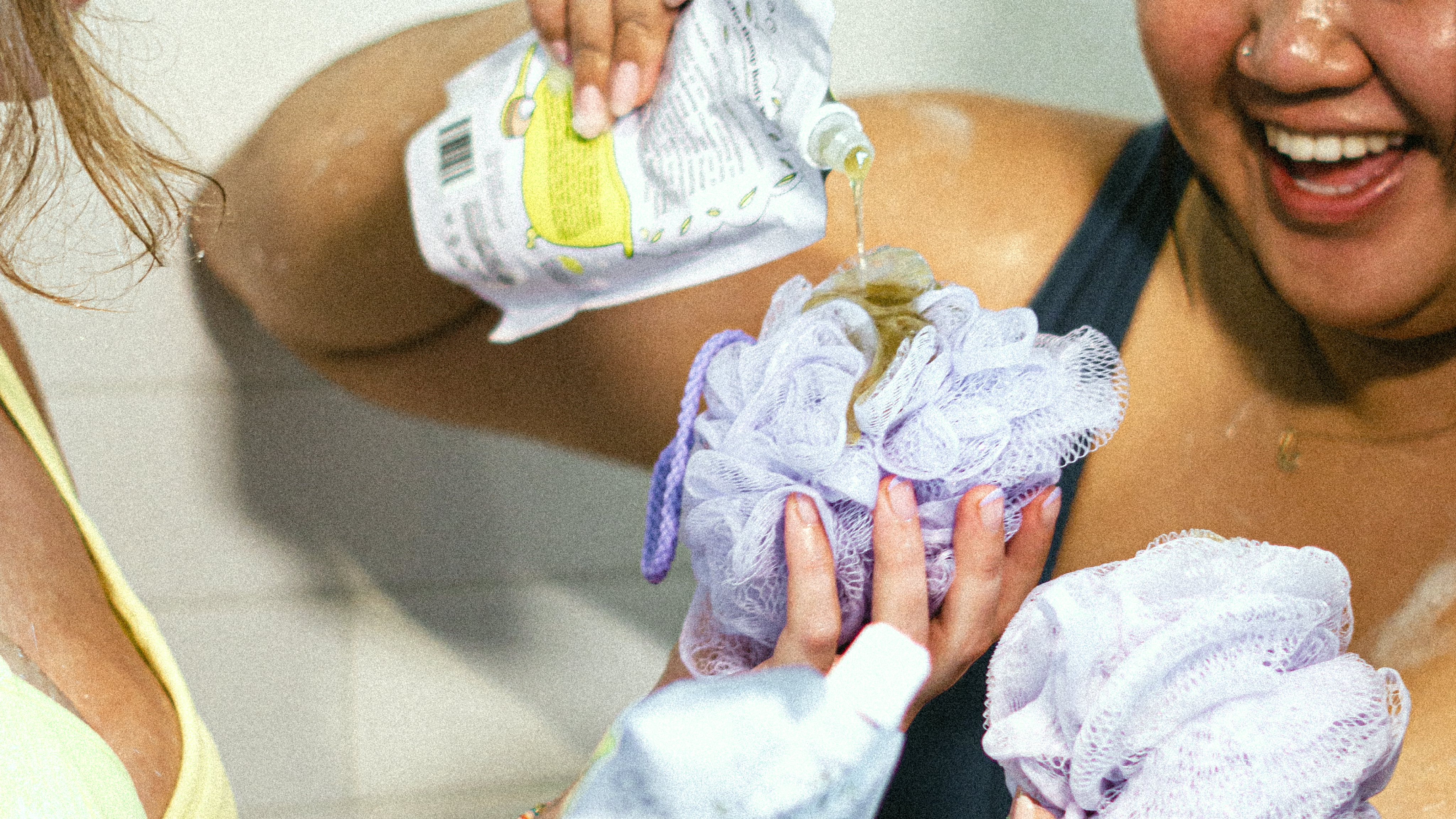 Real Customers, Honest Words
100%
would recommend this product
Total 5 star reviews: 21
Total 4 star reviews: 3
Total 3 star reviews: 0
Total 2 star reviews: 0
Total 1 star reviews: 0
Skin Concern

Acne,

Oiliness,

Uneven Texture

Fantastic Body Wash!

I bought this on a whim... I am a big fan of the Matcha Hemp Hydrating facial cleanser and thought this would be a nice addition to my daily routine. I was not expecting much, but I was pleasantly surprised!

The packaging makes it a bit difficult to dispense but I understand why KraveBeauty made that decision. I opted to put the product in a reusable container with a pump and eliminated that issue. The product itself is quite runny but it creates a luxurious lather upon contact with the skin. It glides across my skin so easily, and the smell of green tea/matcha puts me in a good mood. After washing it off, my skin feels hydrated and not stripped at all. I do notice that I am using quite a bit of product per use, but it does not bother me considering the quality.

Overall, using this product is a great experience! Even though it's limited edition, I am hoping in the future KraveBeauty tweaks the formula a bit and brings it back. I would totally repurchase again.

Skin Concern

Dryness,

Sensitivity

Pretty Good

My skin is usually irritated quite easily, but this wash has been pretty gentle. It also cleans well and does not have a noticeable scent. 👍🏽 The downside is.. I end up using a lot to get a good lather and be able to spread the wash all over.

Skin Concern

Aging,

Dark Spots,

Dullness,

Pores,

Dryness

PLEASE KEEP THIS

This the BEST green tea body wash EVER!

Skin Concern

Dryness,

Sensitivity,

Dullness

A beautiful mistake

Great body wash. It gets the job done and a little goes a long way - a dallop can clean a pretty good sized area of my body. It does well with the more sensitive parts of my skin too. I love smelling the matcha, it's not too strong, and for some reason this smells more like matcha than the face wash.

Great idea. Even greater product!

I added this to my order thinking, 'Nice idea..'. But this is the best body wash I've ever tried. Love it!
Reviews Loaded
Reviews Added