Oat So Simple Water Cream
Basic, lightweight moisturizer
Details
Ingredients
How to Pair
Sustainability Guide
A light-as-water moisturizer that feels like a burst of refreshing hydration on the face. Formulated with less than 9 ingredients, including calming Oat Extract, it balances out your super serums and targeted treatments with some oh so simple hydration. Dive in.
A Break for Overloaded, Oversensitized, Over It Skin
Between active acids, potent patches, and concentrated creams, your skin is working overtime. Until one day, it happens: burnout. You feel super sensitive, you break out, and you can't even touch your skin without wincing. What now? The answer's simple—Oat So Simple. It was created to be the no-fuss, just-right moisturizer that perfectly complements our supercharged routines.
The no-frills formula gives your skin the gentle calming it wants and the essential hydration it needs to go from "so over this" to "glad that's over." Whew!
PETA-certified vegan and cruelty-free.
Oats: Soothes irritation and rebalances stressed skin. Trehalose: Helps bind water to skin to retain moisture. Squalane: Conditioning and moisturizing agent that locks in moisture.
The color and texture of Oat So Simple Water Cream may naturally vary slightly from batch to batch. No worries! This is a normal occurrence when using naturally-derived ingredients and does not impact the efficacy of the formula.
K003-01-0001-EU
Pair with Great Barrier Relief Serum
When you're craving: Extra moisture
Why it works: Water-based cream to hydrate, oil-based serum to seal it in.
How to use: Can be mixed together or applied in any order.
Extra tip: Apply moisturizer liberally but apply serum in layers to prevent greasiness.
How to Recycle
Step 1: Clean and separate! Before recycling your Oat So Simple Water Cream, make sure the jar is rinsed and free of product.
Step 2: Investigate! The Oat So Simple jar is made from PET [1], which is completely recyclable and is the most recycled plastic worldwide. The cap, disc, and spatula are made from PP [5]. Not all recycling programs accept PP so we recommend checking with your local recycling.
Step 3: Recycle! If both type 1 and type 5 plastics are both recyclable in your area, we recommend just throwing the entire container in the recycling bin. The labels or glue can be recycled too, so no need to remove those.
Materials Used
Jar: PET [1]
Cap, spatula: PP [5]
Disc: HDPE [5]
Box: FSC paper and soy based inks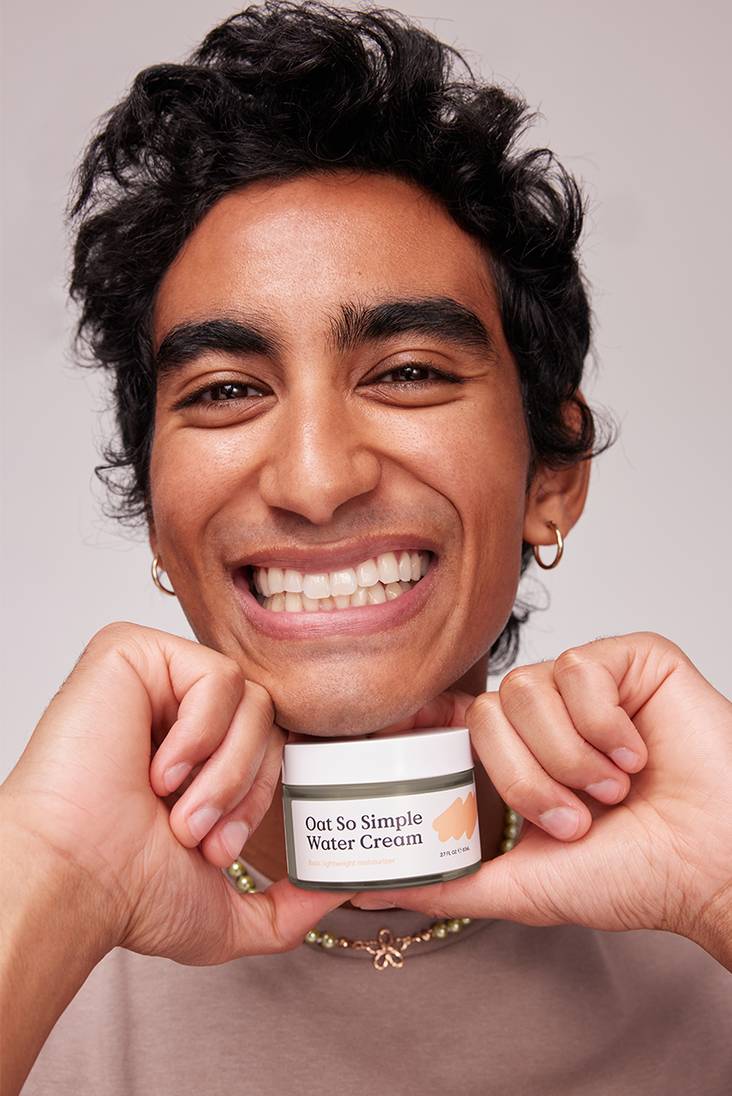 Count It on Two Hands
Oat So Simple is made with less than 9 ingredients: oat, water, 4 moisturizers, 2 skin emollients, 1 formula stabilizer, and 0 chemistry degrees needed to read them.
Count It on Two Hands
Oat So Simple is made with less than 9 ingredients: oat, water, 4 moisturizers, 2 skin emollients, 1 formula stabilizer, and 0 chemistry degrees needed to read them.
We Had One Job
Oat So Simple was the creation of 2,300+ community members, 3 years in the lab, and a whole lot of energy drinks. Together, we crafted the formula with the goal of being just a really good moisturizer. Not bad, huh?
Looking for Something Long Term
Sure, morning hydration is fun but are they going to be there for you at the end of the day? Luckily, Oat So Simple has plant-derived Squalane and Trehalose to keep you sated and hydrated all day long.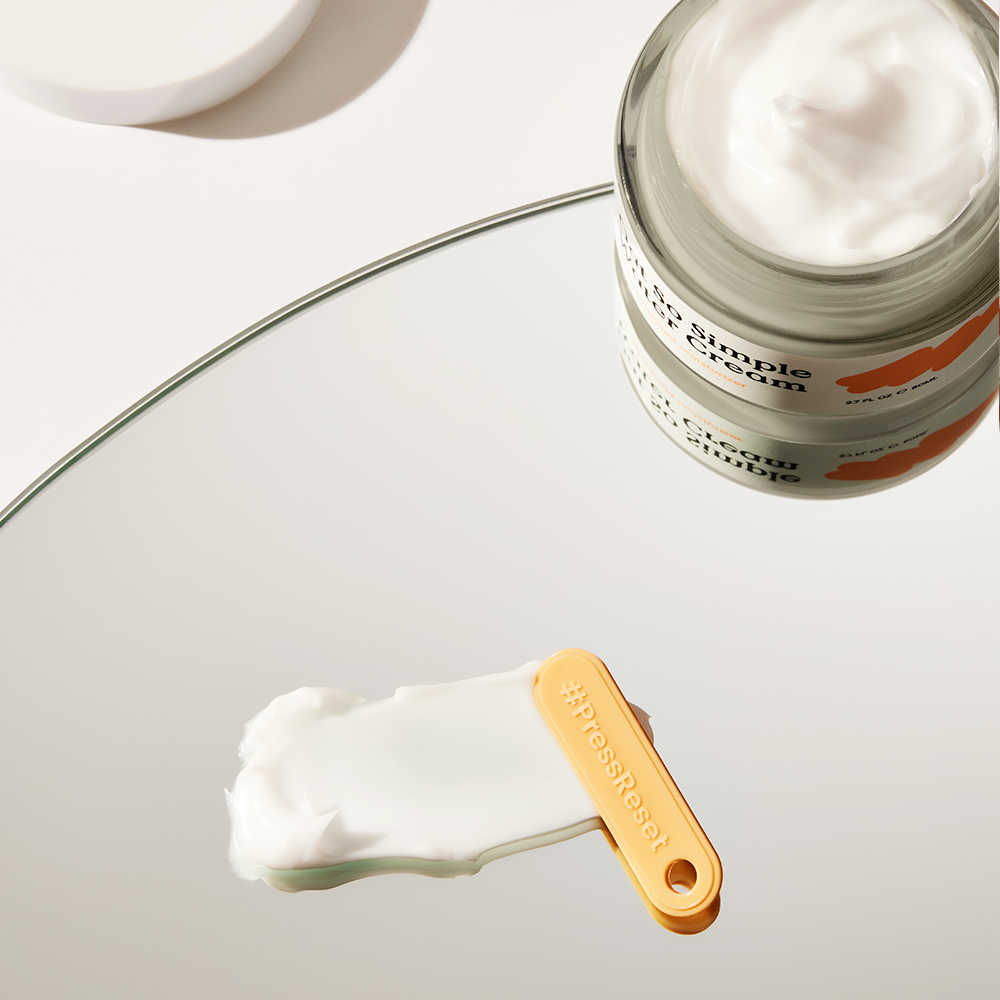 On Cloud 9
Oat So Simple has such an airy, featherweight texture that it instantly absorbs and makes itself right at home with your skin. It's like dunking your face in a cloud.
SKINSTRUCTIONS
How to Use Your Moisturizer
Apply desired amount on clean, dry skin. Gently massage into the skin until fully absorbed. Layer on SPF daily and face oil as needed.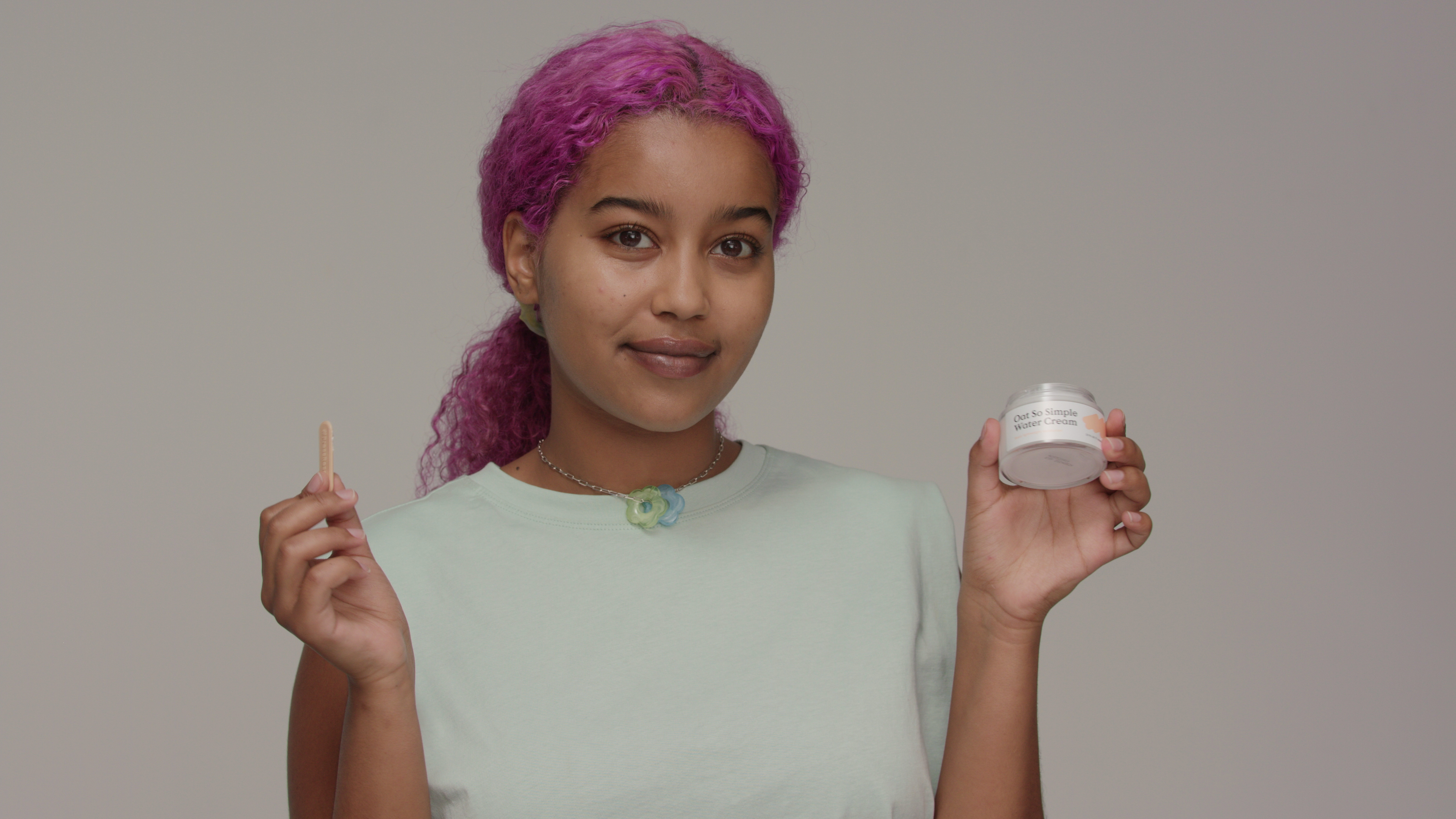 Real Customers, Honest Words
73%
would recommend this product
Total 5 star reviews: 339
Total 4 star reviews: 84
Total 3 star reviews: 70
Total 2 star reviews: 65
Total 1 star reviews: 32
Skin Concern

Uneven Texture,

Oiliness,

Sensitivity

What is your skin type?

Oily

What did you like about this product?

Noticeable Results,

Layers Easily,

Hydrating,

Works Under Makeup,

Non-sticky

great for desert dwellers

For years I have struggled with oily skin due to dehydration, but creams and lotions were too greasy and gel moisturizers never helped at any time of the year in the dry climate I live in! The closest I ever got was Clinique's yellow gel moisturizer but I wanted ingredients that did more than the minimum. This water cream hydrates and doesn't let my acne scars show as much!

Skin Concern

Acne,

Oiliness,

Dryness,

Redness & Inflammation,

Pores

What is your skin type?

Combination

What did you like about this product?

Nourishing,

Hydrating,

Gentle,

Noticeable Results,

Lightweight

So lightweight

I loved applying this cream it was so lightweight yet moisturizing and I noticed the redness in my skin go down after a week

I do not recommend this product

Skin Concern

Sensitivity,

Dark Spots

What is your skin type?

Normal

Not really hydrating?

I initially was making a purchase for just the skin barrier serum but thought it would be fun to also try a new Krave product as I was out of my regular moisturizer. I'm disappointed with this product as it doesn't really keep my skin feeling supple or soft. In fact, I feel like my skin has been showing up more dry patches since I started using it? Im also not a huge fan of how much it smells like oats - despite how much I like eating oats lol. Any how, this moisturizer wasn't for me and for the price is not worth it.

K

KraveBeauty

6 days ago

Hi Alafair, thanks for taking the time to share your experience!

We're so sorry to hear that our Oat So Simple Water Cream didn't give your skin the amount of moisture that it craved. The intention of our moisturizer was to provide safe and simple hydration especially for skin easily irritated by all the different kinds of moisturizers out there on the market. When developing this product, we put an emphasis on "safe", that it wouldn't irritate but be safe to use for skin with even the most sensitive of needs. However, we're sorry to hear that Oat So Simple did not provide your skin with the hydration you had hoped for.

Please be on the lookout for an email from our Customer Care Team!

Skin Concern

Acne,

Oiliness

What is your skin type?

Combination

What did you like about this product?

Gentle,

Lightweight,

Non-sticky,

Noticeable Results

Needs to be more hydrating

This review is after using Oat So Simple for a month: I wanted a moisturizer that was light so my skin felt less oily in the spring. When I first started this, my skin felt very prickly and very tight. I experienced some dry skin and peeling especially around my T-zone, which almost made me stop using this all together. Alas, I didn't want to waste $28 and maybe my skin was getting used to it. After a few more weeks, there was some positive change. I stopped getting tiny pimples (probably thanks to the oats) and eventually my skin stopped peeling. That said, this moisturizer should probably be layered with other products like a hydrating serum or toner, and ESPECIALLY a sunscreen. It seems effective with Krave's entire skincare line (which I've been on since purchasing the moisturizer). TL;DR: For something in the core series, it's weird that it needs to have other steps for it to work, so I look forward to the reformulation of this moisturizer (at possibly a lower price).

Skin Concern

Aging,

Pores,

Redness & Inflammation,

Sensitivity,

Uneven Texture

What is your skin type?

Combination

What did you like about this product?

Gentle,

Lightweight,

Layers Easily,

Works Under Makeup,

Non-sticky

I was pleasantly surpried by this!

I've seen some mixed reviews on this, but ended up really loving this! I decided I really needed to opt for a more basic moisturizer for my highly reactive skin type, where I have to watch out for certain ingredients. This ticked all the boxes and had such a short ingredient list, so I figured it wouldn't hurt to try - glad I did! Perfect summer moisturizer for me who (on top of having sensitive reactive skin) has combination skin and leans more on the oily side. I appreciated the cooling effect and it's extremely light weight! I wear this under makeup and find that it wears well underneath, if not, it makes my makeup application more seamless. Have not had ANY skin reactions, so that's always a godsend for me.

Please don't ever change, oat-so-simple!
Reviews Loaded
Reviews Added