Great Barrier Relief
Reparative, skin-soothing serum
Details
Ingredients
How to Pair
Recycling Guide
A creamy, nourishing serum that calms signs of sensitivity caused by a broken skin barrier. A blend of nourishing oils and rebalancing actives restore damaged skin to clear breakouts and soothe irritation. Skin looks clear, feels calm, and probably sounds amazing.
A Calming Hand
Our skin and the environment don't always get along. Whether it's because you're a city dweller or got too pump-happy with the retinol, your skin needs some back up. Great Barrier Relief is there to lend a hand, no bat symbol required. GBR works by repairing damage in the skin barrier—the skin's invisible shield. It helps repair tears and strengthen the barrier wall to kick environmental aggressors to the curb. It may be green, but it's got a black belt in kicking ass.
PETA-certified vegan and cruelty-free.
Tamanu Oil: Soothes irritation and calms redness without greasiness. Niacinamide: Helps clear spots, fades discoloration, and brightens skin. Ceramides: Essential to skin health—helps replenish fatty building blocks of the skin barrier.
The color and texture of Great Barrier Relief may naturally vary slightly from batch to batch. No worries! This is a normal occurrence when using naturally-derived ingredients and it does not impact the efficacy of the formula.
NOTE: Great Barrier Relief does contain 10% Tamanu Oil, which is derived from Tamanu nuts. Though most people don't have issues using this ingredient, people with nut allergies could have a potential reaction. If you think your skin will react, we recommend performing a 24-hour patch test on your wrist and neck first and slowly integrating GBR into your routine thereafter. If you do experience an allergic reaction, stop using the product immediately and seek medical attention if needed.
Pair with Oat So Simple Water Cream
When you're craving: Extra moisture
Why it works: Water-based cream to hydrate, oil-based serum to seal it in.
How to use: Can be mixed together or applied in any order.
Extra tip: Apply moisturizer liberally but apply serum in layers to prevent greasiness.
Step 1: Clean and separate! Before recycling, make sure your bottle is rinsed and free of product. It is important to separate the pump + cap and silicone insert from the bottle. The pump itself needs to be taken apart into its components: plastic pump, plastic straw, and spring.
Step 2: Investigate! The silicone insert, plastic straw, and spring are not recyclable and need to be thrown away. The remaining pump + cap are made from PP [5] which is accepted by some curbside recycling programs. The bottle is made from 100% PCR (post-consumer recycled) PET [1], which is completely recyclable. We recommend checking with your local recycling to see which materials can be recycled in your area.
Step 3: Recycle! If type 1 and type 5 plastics are both recyclable in your area, we recommend leaving the cap on. The labels or glue can be recycled too, so no need to remove those.
Materials Used
Bottle: 100% PCR PET [1]
Pump, cap: PP [5]
Box: FSC paper and soy based inks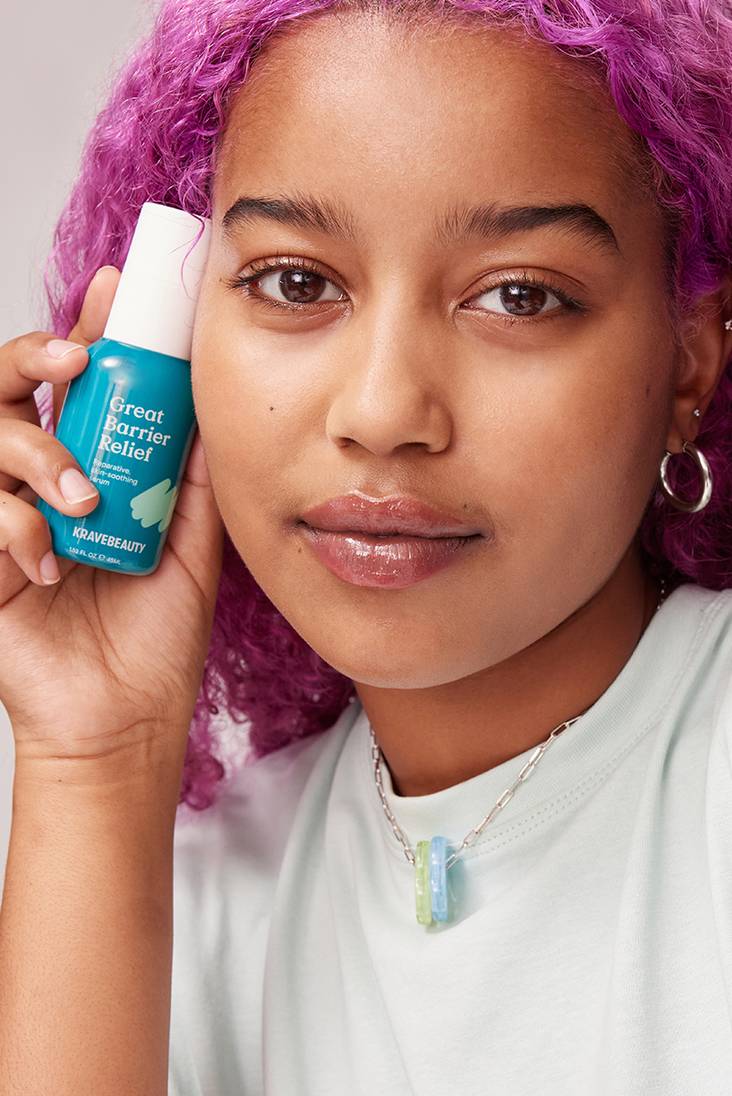 Mighty Morphing Power Changer
Great Barrier Relief is a natural shapeshifter. You can use it as a daily serum, substitute it for your moisturizer or as an acne treatment to transform a spot into a not.
Mighty Morphing Power Changer
Great Barrier Relief is a natural shapeshifter. You can use it as a daily serum, substitute it for your moisturizer or as an acne treatment to transform a spot into a not.
The Best Things Come in 3's
GBR is loaded with Tamanu Oil, a breakout-clearing, texture-smoothing, manicure-giving (beta) active that replenishes skin. Paired with Safflower and Rosehip oil, this trio visibly calms redness and nourishes dry skin from the first swipe.
Millennial Parent Vibes
Niacinamide a.k.a. the soccer parent of skincare ingredients is a master multitasker. It helps prevent breakouts and fades the look of dark spots for radiant, even skin. That's good parenting.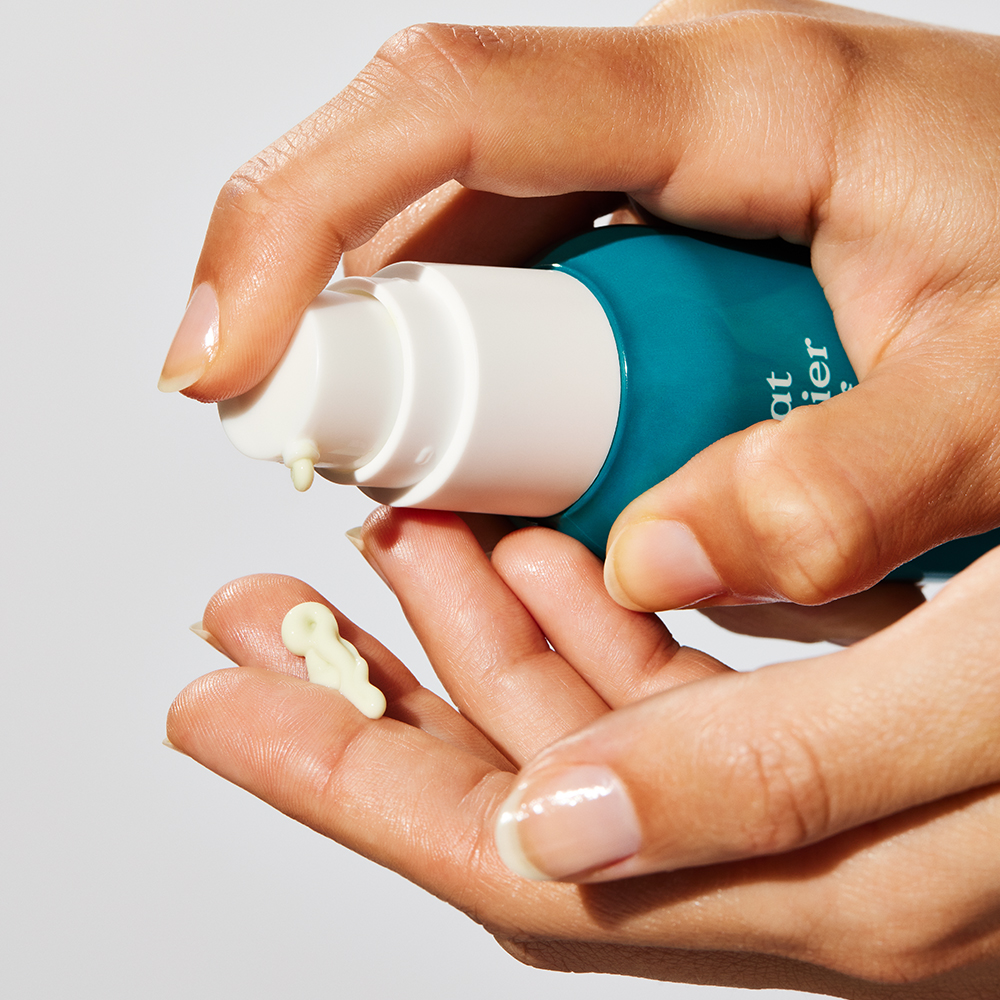 New Look, Same Old Fave
GBR's glowed up. Our OG tried-and-true serum is now in an airless pump that pushes out every bit of product, so you don't need to break it open. Don't do it, bestie... Just trust us.
SKINSTRUCTIONS
How to Use Your Serum
Apply 1-2 pumps on clean, dry skin. Use a little extra for dry skin and a little less for oily skin. Gently massage into the skin until fully absorbed. If using as a sensitive spot treatment, use light pats or apply with a q-tip.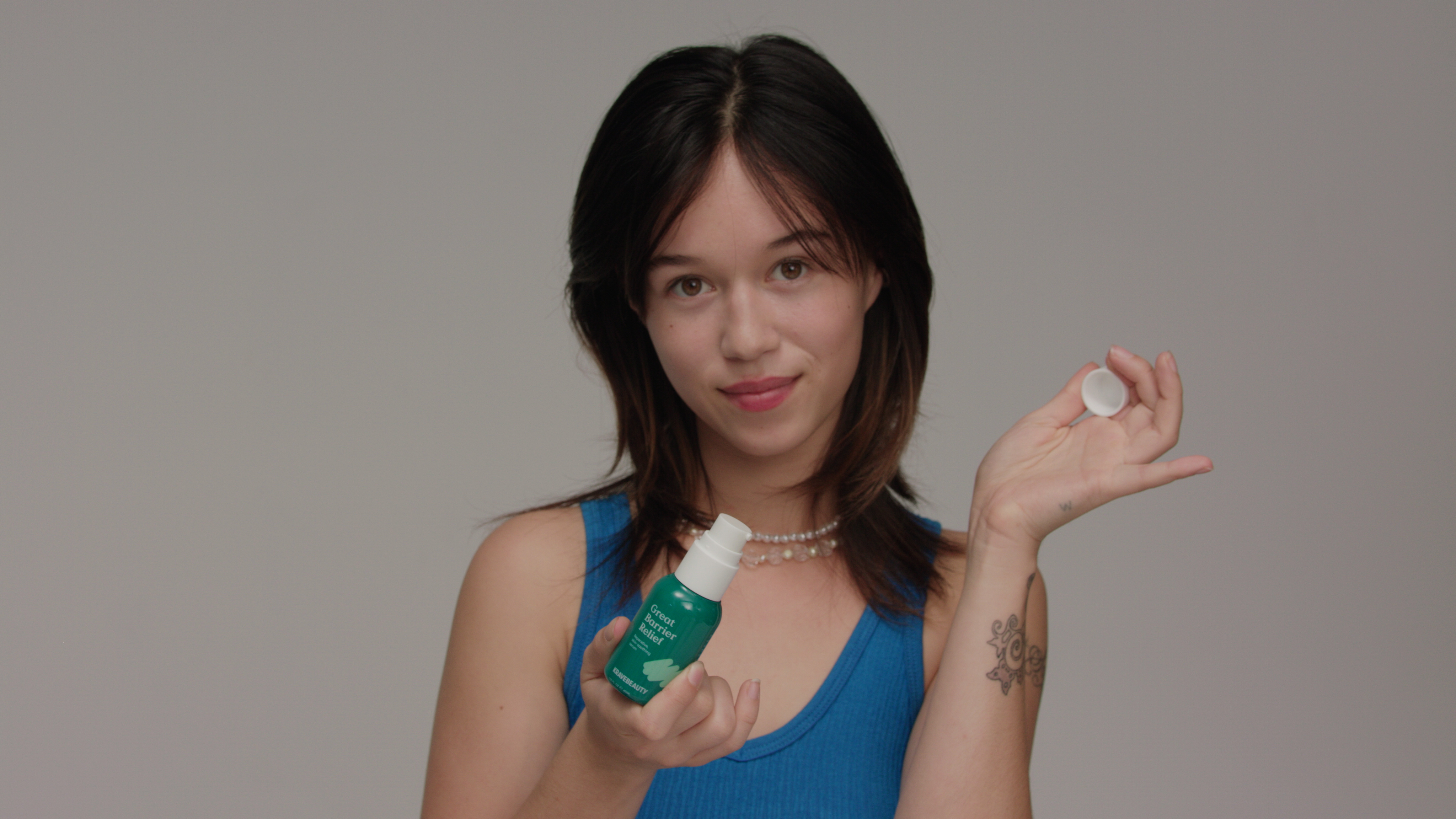 Real Customers, Honest Words
Total 5 star reviews: 1.1k
Total 4 star reviews: 105
Total 3 star reviews: 46
Total 2 star reviews: 59
Total 1 star reviews: 43
Skin Concern

Acne,

Dryness,

Pores,

Uneven Texture,

Redness & Inflammation

It's all that and then some

Wow. I was skeptical going in, but my summertime acne-prone skin is changing with the leaves to insatiably dry, and so I gave the Krave regimen a try during this transitional phase. It's all extremely good, and I'm hooked, but GBR is the real star of the show. Like no other serum I've ever tried. Somehow feels simultaneously light and incredibly nourishing, banishes any tight spots and encourages healing of any damaged or picked over areas. This is what your skin should feel like!

Skin Concern

Redness & Inflammation,

Acne,

Sensitivity

I love it so far

I've only been using the great barrier relief for a couple weeks.. I like to give products at least a month before I rave about it. But I absolutely love this product! I was breaking out really bad on the side of my cheeks and my face was in constant pain. This has been helping me a lot

Skin Concern

Aging,

Dark Spots,

Dullness,

Dryness,

Redness & Inflammation

So good it's become a staple in my skincare routine

I started using this stuff for almost two years now. I've reordered it countless times as I use it daily. It's great to use pre-moisturizer and in the dry heat of the summer I sometimes can get away with just using it as a moisturizer. I love the smell so much and the new packaging is great. Very very easy to recycle without having to clean the components with the redesigned packaging.

Skin Concern

Dryness,

Pores,

Sensitivity,

Redness & Inflammation

Recommend

I'm new to the skincare game, but I was looking for a super moisturizing serum and have been pleased with this product. I have dry skin so I always use with a moisturizer, but I feel like my skin is looking healthy and I always look forward to applying the product at night. It does have a smell because there is no added fragrance, but I think it smells almost like coffee which I love, so it doesn't bother me at all. While there hasn't been any drastic overnight changes, I do feel my skin is softer and more healthy looking.

JB

Skin Concern

Dryness,

Pores,

Redness & Inflammation,

Aging,

Uneven Texture

I am an evangelist for this

I'm 48. I use retinol, I'm addicted to skincare and I am in love with GBR.

I'm on my fourth - fifth? - bottle and it is the single greatest skincare product I've ever used. This is not hyperbole. I try everything from the cheapest to the ridiculously expensive. And there is nothing else on the market quite like Great Barrier Relief.

I use it year round at least twice a day. I use it everywhere (I should probably just buy the body cream!) It rebuilt my so damaged barrier band has helped me through the havoc menopause has wreaked on my face. The texture is sublime. I feel like I'm actually feeding my skin.

I got my fiance hooked. He slathers it on. My mom is hooked. She's on her third bottle. On vacation with a friend, I let her use mine. She bought her own. And so on. I evangelize this to anyone who'll listen.

It is magic in a cute little bottle.
Reviews Loaded
Reviews Added