Matcha Hemp Hydrating Cleanser
Gentle, Non-Stripping Cleanser
Details
Ingredients
How to Pair
Recycling Guide
Our best-selling jelly cleanser that's as satisfying to use as it is effective. The bouncy gel formula creates a silky lather to lift away dirt plus light makeup + sunscreen. The best part? No dry, tight after-feeling like conventional cleansers.
A Clean Slate
Skincare wisdom tells us that a super clean face = super tight skin, but we're calling BS on that. We think a good cleanser can be effective and gentle at the same time. Cue Matcha Hemp Hydrating Cleanser, the face wash that leaves your skin feeling cleaner and better. It uses coconut-based surfactants to deeply cleanse without stripping skin. Instead, nourishing Matcha and Hemp Seed Oil restore hydration and antioxidants to the skin. Seems like the wise choice to us!
PETA-certified vegan and cruelty-free. Always free of fragrances, essential oils, dyes, and colorants.
The color and texture of Matcha Hemp Hydrating Cleanser may naturally vary slightly from batch to batch. No worries! This is a normal occurrence when using naturally-derived ingredients and it does not impact the efficacy of the formula.
Camellia Sinensis Leaf Water, Water, Glycerin, Coco-Betaine, Methyl Gluceth-10, Ethoxydiglycol, Dipropylene Glycol, Methylpropanediol, Sodium Chloride, Butoxydiglycol, Diglycerin, Glycereth-26, Xanthan Gum, Camellia Sinensis Leaf Powder, Quillaja Saponaria Bark Extract, Prunus Amygdalus Dulcis (Sweet Almond) Oil, Cannabis Sativa (Hemp) Seed Oil, Avena Sativa (Oat) Kernel Extract, Diethoxydiglycol, Coco-Glucoside, Caprylyl Glycol, Glyceryl Caprylate, Decyl Glucoside, Pentylene Glycol, 1,2-Hexanediol, Sodium Cocoyl Isethionate, Butylene Glycol, Octanediol, Panthenol (Vitamin B5), Citric Acid, Ethylhexylglycerin, Caprylic/Capric Triglyceride, Sodium PCA, Disodium EDTA
Matcha Hemp Hydrating Cleanser contains 30% of Matcha and is formulated with a pH of 5.0-6.0 (pH may vary by batch).
Pair with Kale-Lalu-yAHA
When you're craving: Less oiliness
Why it works: Subtracts excess oil, adds essential hydration.
How to use: Cleanse face first, apply exfoliator with a cotton pad, no rinsing.
Extra tip: Use as a double cleanse to pick up heavy or oil-based products.
Step 1: Clean and separate! Before recycling, make sure you rinse the tube and cap so that they're completely free of product. It's important to separate the flip cap from the tube.
Step 2: Investigate! The tube is made from 50% PCR and 50% virgin CoEx plastic. Unfortunately, because CoEx is a mix of 3 different plastics (LDPE, PCR HDPE, and EVOH), it is not currently recyclable throughout most of the U.S., Canada, Australia, and New Zealand. The cap is made from 50% PCR and 50% virgin PP [5]. PP is a "rigid plastic" so it can be recycled through some curbside programs. We recommend checking with your local recycling.
Step 3: Recycle (the cap)! If your local recycling program accepts type 5 plastic, feel free to toss the cap into your recycling bin.
Materials Used
Tube: 50% PCR and 50% virgin Coex plastic
Cap: 50% PCR and 50% virgin PP [5]
Box: FSC paper and soy based inks
SLS-Less
Matcha Hemp Hydrating Cleanser does not use harsh soaps like SLS; instead, it's formulated with gentle coconut-derived surfactants for softer suds.
SLS-Less
Matcha Hemp Hydrating Cleanser does not use harsh soaps like SLS; instead, it's formulated with gentle coconut-derived surfactants for softer suds.
Vitamin Water but For Your Skin
Vitamin B5 and Sodium PCA put the "hydrating" in Matcha Hemp Hydrating Cleanser. They help absorb moisture from the atmosphere while Hemp Seed Oil seals it in to keep your skin quenched. (Still need your 8 glasses though.)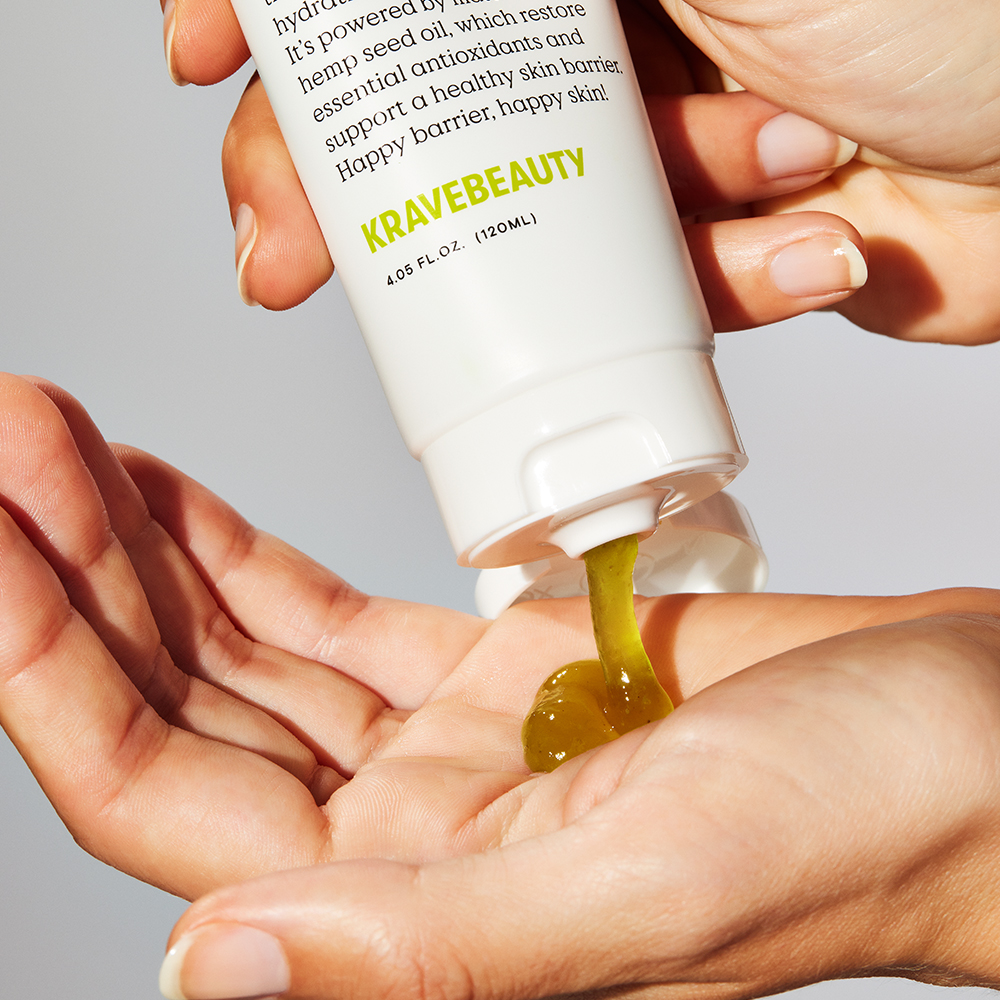 Splash of Matcha, Hold the Latte
We love green tea because it's one of the most antioxidant-rich ingredients on the planet! That's why we take our cleanser with a shot of matcha-powered free radical protection.
Let's Collab
Got a skin barrier? You've just met your matcha. Unlike other cleansers, our face wash doesn't steal from your skin barrier—it donates skin-supporting nutrients like amino acids.
SKINSTRUCTIONS
How to Use Your Cleanser
Day and/or night, start by applying a nickel-sized amount on wet skin. Gently massage in the product until a gentle lather forms. Rinse with lukewarm water and pat skin dry.
Real Customers, Honest Words
Total 5 star reviews: 980
Total 4 star reviews: 65
Total 3 star reviews: 41
Total 2 star reviews: 41
Total 1 star reviews: 30
Skin Concern

Acne,

Oiliness,

Redness & Inflammation

Only thing that helped my hormonal cystic acne!

This thing is a god send, I've finally found something that tames my cystic acne after searching for 2 years 🥹

Skin Concern

Uneven Texture,

Pores

Fantastic cleanser!

I'm so glad I tried this cleanser! It's my new go-to, for sure. My skin can be anything from oily to dry, but actually feels more balanced out after using this cleanser for a couple weeks. Love the cute and eco-friendly packaging as well!

Skin Concern

Acne,

Dullness,

Oiliness,

Sensitivity,

Uneven Texture

Let your skin adjust

I've been using this cleanser for almost a month now. Initially I thought that it just wasn't for me because it seems my skin was oilier then normal. After about 2 weeks of use my skin became adjusted and became the most "normal" my skin has ever been as far as oily dry dehydrated etc. I use the entire line minus the moisturizer currently. I've battled hormonal acne for about 6 years and this line has been the most effective. No break outs at all and more balanced skin tone.

Skin Concern

Acne,

Dryness,

Sensitivity

Favorite Clenser

I have acne prone sensitive and dry skin and this cleaner is my absolute favorite. I double cleanser w/ and oil cleanser first then go in with the matcha hemp cleanser. My skin feel very clean after without my skin feeling dry or stripped. I've used other hydrating cleanser before but all the ones I've used have still left my skin dry, nothing has worked for me besides this cleanser. I love it!

Skin Concern

Acne,

Dark Spots,

Sensitivity,

Uneven Texture,

Oiliness

ASSIGNMENT UNDERSTOOD

This product is amazing and has turned my skin care around 100%. Gentle on my acne prone hyper-pigmented skin, no more breakouts and my new staple product. The rest of the collection have become the only products is use now. Please dnt ever stop making this.
Reviews Loaded
Reviews Added