Makeup Re-Wined
Transforming Jelly Oil Cleanser
Details
Ingredients
How to Pair
Recycling Guide
A one-of-a-kind jelly oil cleanser that makes cleansing fun and effortless. Makeup Re-Wined gently takes off makeup, sunscreen, and impurities using sustainably sourced, upcycled grapeseed oil. Unwind your day and Re-Wined back to your true skin self.
A Transformational First Step
Congrats! You've made it through the day. You even wore real clothes, put on mascara, and interacted with the general public. You *earned* a full night's sleep. 
Well almost. Listen carefully: don't get in bed. We know your duvet has never looked fluffier. But walk away. Open the bathroom. Turn on the faucet. And wash your face. We've made it easier than ever to melt away stubborn makeup (yes, even the third attempt at wing eyeliner). Rewind to a time with soft, clean skin. Future you will be so happy - and hopefully sound asleep.
PETA-certified vegan and cruelty free.
Upcycled Grapeseed Oil: Lightweight, non-comedogenic oil that helps break down oil-based impurities like makeup + SPF.
Sunflower Seed Oil: Gentle cleansing oil that's rich in barrier-supporting Linoleic Acid to help prevent irritation.
Vitamin E: Provides antioxidant benefits and helps condition the skin during cleansing.

The color and texture of Makeup Re-Wined may naturally vary slightly from batch to batch. No worries! This is a normal occurrence when using naturally-derived ingredients and it does not impact the efficacy of the formula.
Pair with Matcha Hemp Hydrating Cleanser
When you're craving: A double cleanse
Why it works: Removes any leftover residue, while leaving your skin supple and hydrated.
How to use: Use Makeup Re-Wined to remove stubborn makeup and/or waterproof sunscreen. Rinse. Finish off with Matcha Hemp Hydrating cleanser and gently massage it until lather forms. Rinse with lukewarm water.
Extra tip: Use Makeup Re-Wined to clean your makeup brushes, sponges, and more!
Step 1: Clean and separate! Before recycling, make sure you rinse the tube and cap so that they're completely free of product. It's important to separate the flip cap from the tube.
Step 2: Investigate! The tube is made from 40% PCR and 60% virgin CoEx plastic. Unfortunately, because CoEx is a mix of 3 different plastics (LDPE, PCR HDPE, and EVOH), it is not currently recyclable throughout most of the U.S., Canada, Australia, and New Zealand. The cap is made from virgin PP [5]. PP is a "rigid plastic" so it can be recycled through some curbside programs. We recommend checking with your local recycling.
Step 3: Recycle (the cap)! If your local recycling program accepts type 5 plastic, feel free to toss the cap into your recycling bin.
Materials Used
Tube: 40% PCR and 60% virgin Coex plastic
Cap: Virgin PP [5]
Box: FSC paper and soy based inks
It Surprises, Excites & Delights!
Like 3 cleansers in 1, it starts as a jiggly jelly (surprise!) then emulsifies into a smooth oil as you massage it into your skin (excites!). Once it mixes with water, it magically transforms into a light milk to thoroughly wash off and leave skin clean and comfy. Now that's a true delight!
It Surprises, Excites & Delights!
Like 3 cleansers in 1, it starts as a jiggly jelly (surprise!) then emulsifies into a smooth oil as you massage it into your skin (excites!). Once it mixes with water, it magically transforms into a light milk to thoroughly wash off and leave skin clean and comfy. Now that's a true delight!
Oils, Balms & Creams OH MY!
Oil cleansers are too messy. Cleansing balms are too stress(y). Combine the unnecessary mess and the unneeded stress for a jiggly-jelly, all-in-one makeup remover success!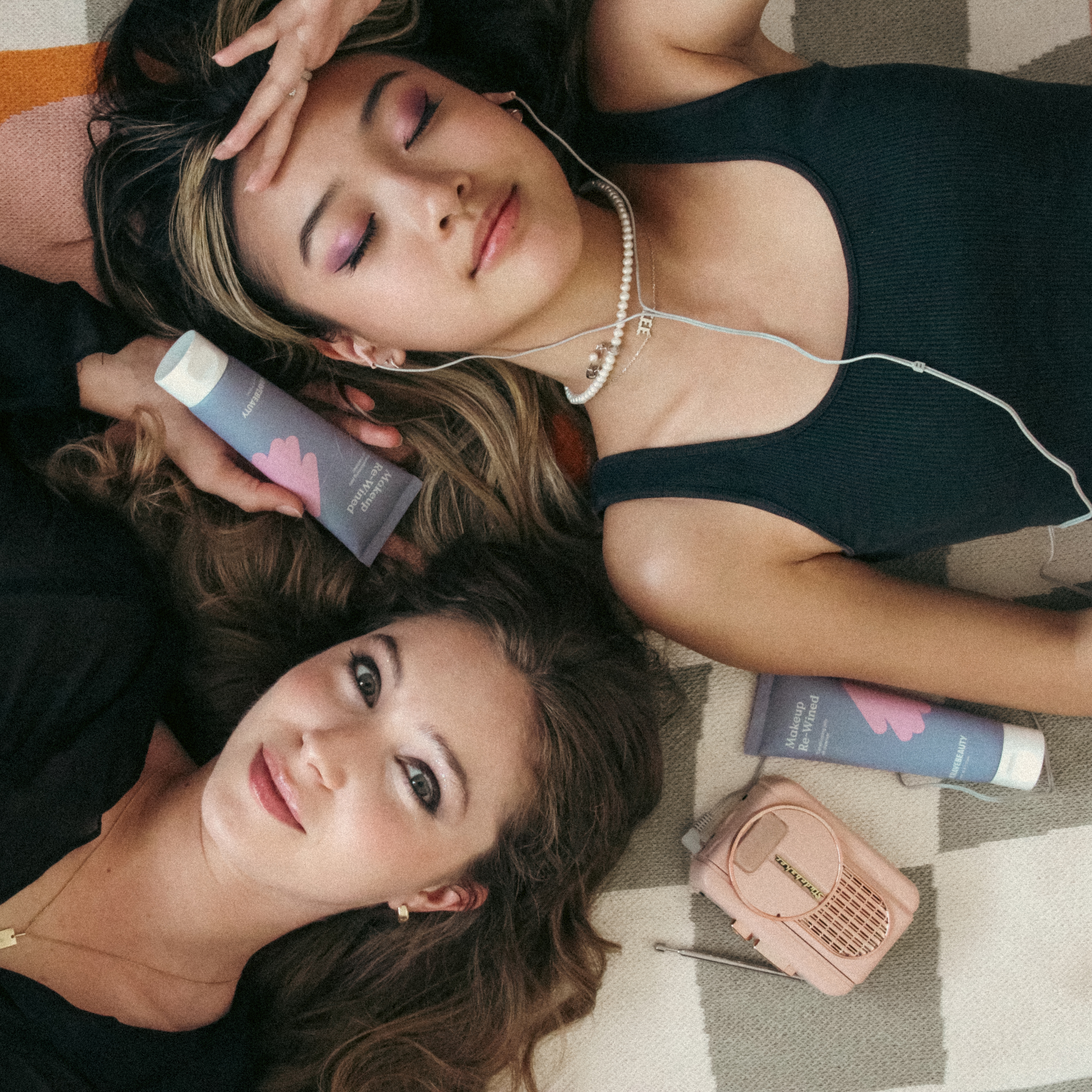 One Vineyard's Trash is Our Treasure
Our upcycled grapeseed oil comes from the wasteland of your favorite glass of red. The lightweight, non-comedogenic oil breaks down oil based impurities on your skin including makeup + SPF. So next time you take a sip, or two, remember our Makeup Re-Wined shares the same vine.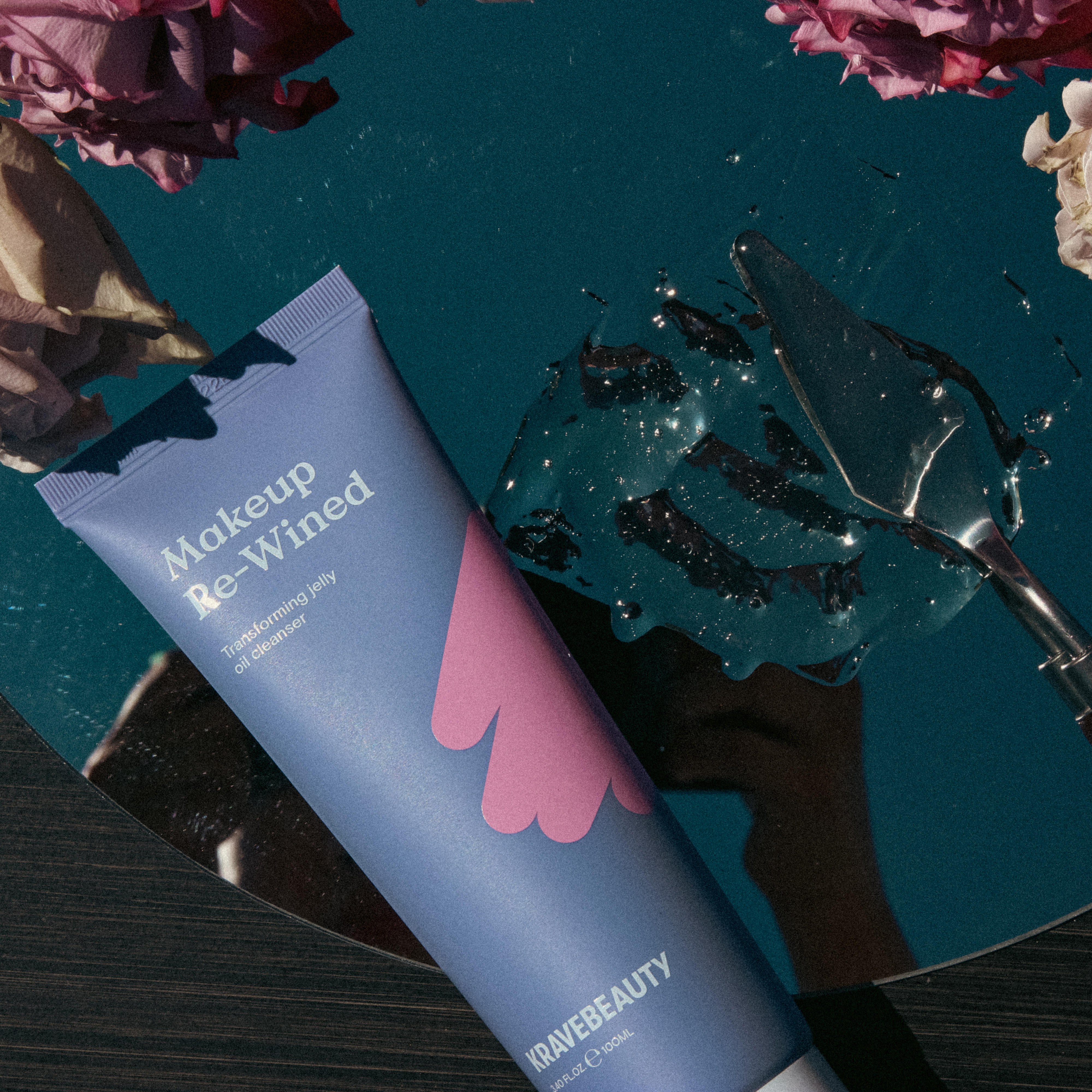 Ctrl + Alt + Hit Rewind
A full face of makeup has nothing on us. Rainbow eyeshadow? Rewind. Waterproof mascara? Rewind. Contour that looks like a beauty filter? Hit rewind. Makeup Re-Wined melts it all away faster than you can say "third attempt at winged eyeliner."
SKINSTRUCTIONS
How to Use Your Jelly Oil Cleanser
Massage desired amount onto dry skin, then rinse with lukewarm water. Use as a first cleanse.
Real Customers, Honest Words
Total 5 star reviews: 85
Total 4 star reviews: 3
Total 3 star reviews: 1
Total 2 star reviews: 0
Total 1 star reviews: 0
Skin Concern

Acne,

Aging,

Dark Spots,

Oiliness,

Uneven Texture

Feels like Heaven!

I finally finished my last tub of balm cleanser and have been using Makeup Re-Wined for almost a week now and it's been so enjoyable! No scooping, no taking a lid on and off, and no crazy liquid/oil dripping from your wrists. It emulsifies beautifully and takes off even the toughest, anti-budge makeup. It doesn't have an overwhelming fragrance and washes off completely with a few rinses. I hope Krave continues to add to their collection of amazing products! Will definitely re-purchase.

Skin Concern

Dark Spots,

Dryness,

Sensitivity,

Aging,

Acne

best oil cleanser

love the 2in 1, so good at removing waterproof makeup without irritating my eyes

Makes me want to wash my face again

Not only does this product melt off your make up and manages to smell good. The experience is sooo nice that it makes me want to wash my face again. I've never had a face wash that makes my face feel so soft.

Skin Concern

Dryness,

Redness & Inflammation,

Aging,

Sensitivity,

Acne

Best oil cleanser I've ever used

This product combines a great sensory experience, ease of use, and effectiveness. In short, it's the total package! I love the jelly-to-oil transformation—it's fun, and it means the cleanser only goes where I want it. And when it emulsifies, the milky texture is so pleasant and easy to rinse away, unlike cleansing balms I've used in the past. This cleanser acts quickly to remove my makeup and sunscreen, and leaves my skin feeling clean and hydrated. Krave Beauty, you have another excellent product here!

Love at first sight, and this is a forever love

This is the BESTEST cleanser I have ever used. I love everything about it - texture, cleansing ability, scent, packaging, I mean....everything. I emptied my first tube and opened the second tube today! Just started a subscription to this amazing cleanser cause I can't live without it now. Krave beauty team, thank you so much for making this product come to life.
Reviews Loaded
Reviews Added