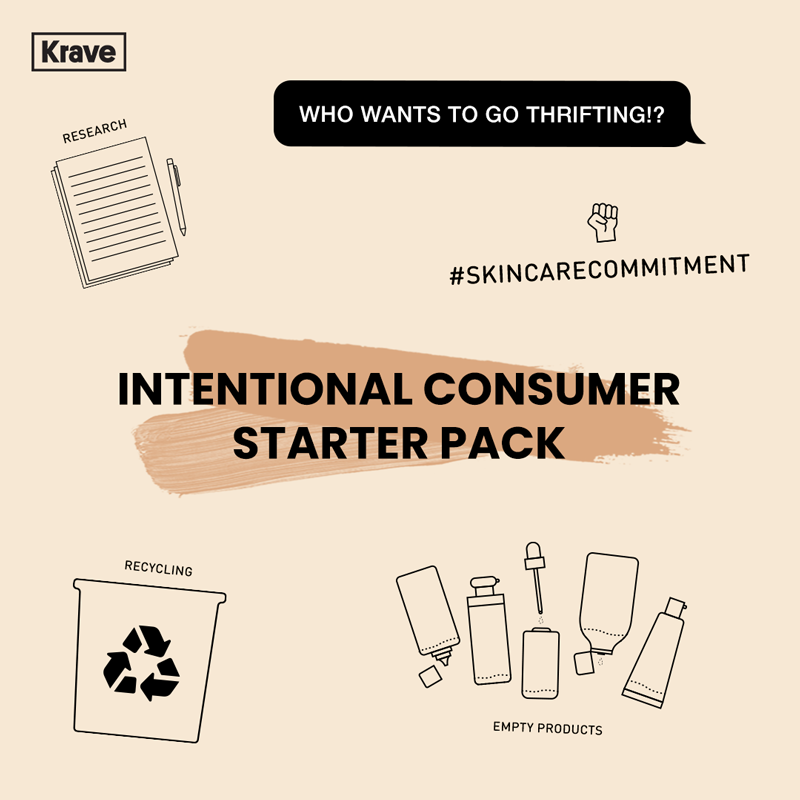 Sustainability 101
How to Be More Intentional This Holiday Season
The holidays are quickly approaching, which also means the season of increased consumption is upon us. This time of year is one of the best - it's full of special times with loved ones, lots of delicious homemade meals (who's ready for some pumpkin pie?), and of course, cozy nights by the fireplace watching Home Alone and Elf all winter long. We're very excited.
But it's also got a way of making us feel like we need to consume a lot. Whether that's physical consumption (e.g. shopping), mental consumption (e.g. media), or both, it's definitely a challenge to step away from the mindset of always feeling like you need more. And because this time of year that feeling hits even harder, we've put together a few ways that you can be more mindful this holiday season and beyond. 
Take Inventory 
Take an hour or two one day (preferably in advance of all the sales), sit down and take an inventory of all of your makeup, skincare, body care, etc. - whatever you intend to be shopping for this season. Then, categorize them, and write it all down. It can be pretty jarring to see all of your items listed out because sometimes you don't realize how much you have until it's all right in front of you. And hopefully, this will help you when deciding what you need to buy - and what you don't. 
If you're truly running out of items, by all means, go ahead and use this time as an opportunity to get some savings on things you were going to buy anyway. And yes, if there is something that you've wanted for a long time and you've thought hard about it, go ahead and treat yourself (and save some money while you're at it)! Just make sure you're not spending money just to spend money. And that you're not spending money you were never going to spend in the first place just to get a little discount. 
Hold Yourself Accountable
Yes, easier said than done, but it can happen if you really commit. Try telling lots of people that you're going to stop buying any more beauty products; that way, people are counting on you to stick it out until the end. You could also go on a no-buy, replacement only commitment. That way you're not stuck with the idea that you can't buy anything, which may help you be more motivated to use things up because if you do, you can try something new to replace it. 
Unplug
Ugh, the dreaded tip. But try it! Instead of being exposed to all the many sales on social media, turn it all off. Okay, it doesn't have to be for good, it could even just be a few hours a day when you're spending time with loved ones. 
If you're not into the idea of turning off your phone, consider unsubscribing from brand emails that you know you don't need. Do a little email declutter and only keep the content you're craving in your life. Perhaps also go on Instagram and unfollow some brands or people that only make you want to buy things and don't give you any other added value. 
Positive Vibes Only 
Get that negativity out of your life, fam! Being a more intentional consumer is not all about material things; it's also about mental consumption of content. Make sure to consume things that bring you value and joy. Consider moving away from the toxic people in your life and keep the people who always bring you up, support you, and bring happiness and positivity into your days. Be aware that you have limited headspace during the day, so make sure to fill that with things of value to you, puts you in the holiday spirit, and makes you happy. 
If you've thought about it for a while, do take this time to get what you need at a discounted rate, but don't let this season be all about getting new things. Make it about spending time with your family and enjoying the season. 
However you end up deciding to consume, is totally up to you and we fully respect whatever you choose. We just know that you'll inevitably come across temptations that you might not want to succumb to, and since it's even more prominent during the holidays, we wanted to provide you some tips and insights to help you along the way. 
How are you trying to be more intentional this season? Comment below!