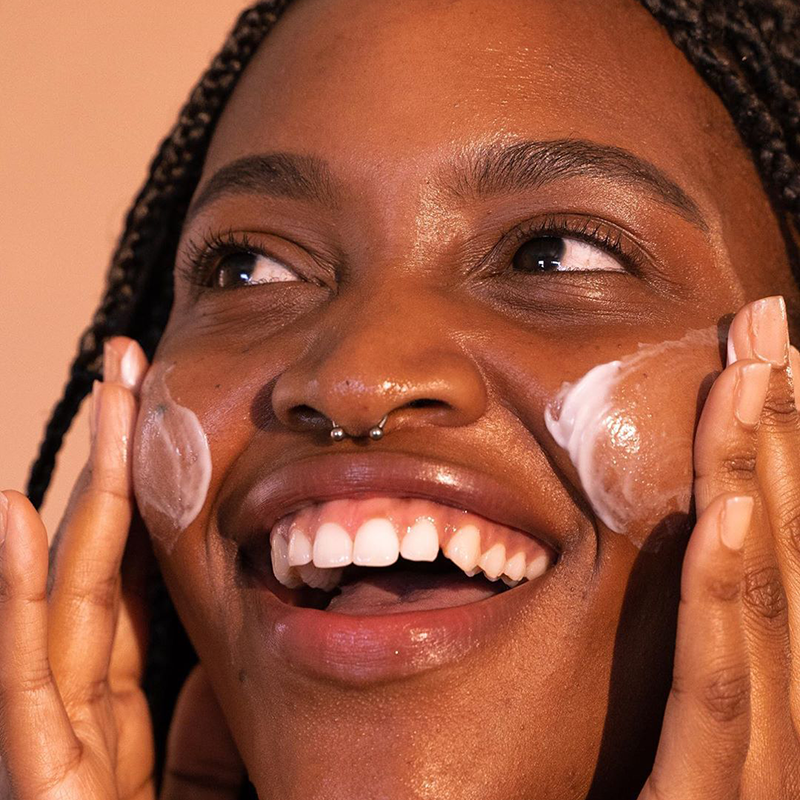 KraveBeauty 101
How to Use Oat So Simple Water Cream for Your Skin Concern
If you're reading this or if you bought Oat So Simple Water Cream, it's likely because you've tried what feels like all the moisturizers and have yet to find the one. We get that. And it's hard! Is there really a one? There are so many moisturizers on the market that have a ton of ingredients and a ton of features, so where do you even start?

That's why Oat So Simple Water Cream was formulated with such a short and super intentional list of ingredients to ensure that it would be safe for everyone and anyone. That no matter your skin concern (fungal acne and sensitive skin being our highest priority!), you could use a moisturizer without the fear that it would irritate you, break you out, or clash with any products in your routine. We wanted to make Oat So Simple Water Cream a simple decision 😉.
But we know that everyone's skin is so unique and thus so are your skin's concerns, conditions,  and those needs can change seasonally or even daily! And we, also, understand that you need to address those concerns, but what we want to remind you is that your skin doesn't need the whole nine yards in one product to "fix" those problems. Your skin is smart and knows how to take care of itself with just a bit of support. 
One way we like to address our skin concerns while still keeping our skin's health the priority is to keep our basics basic (and gentle!), and add in or mix supplementary products as needed.  
Oat So Simple Water Cream can act as a really solid base to cocktail or use in the same routine with more targeted supplementary products without a worry because the formulation is so simple. This tweaking, also, replaces having to have a few different moisturizers for colder weather, warmer weather, and the morning and night. It's a great way to have one base moisturizer and add in oils or an exfoliator, if needed, to make it a little more suited to your ever-changing needs.
And here are some ideas to help you do just that if your skin is:
Acne-prone + Sensitive
Remember for acne-prone and sensitive skin types, less can truly be more. The more you try to "fix" your skin with actives, fancy ingredients, and harsh treatments, the more likely your skin is to react to something. If your skin is freaking out or just sensitized, in general, we recommend dialing it back to your core basics and letting your skin barrier recuperate.

Use your core products - cleanser, moisturizer, and protection (SPF), and this simple combination will balance everything out without overdoing it. Oat So Simple Water Cream is perfect for a routine like that because it's simple, non-irritating, and oats are known to be quite soothing ingredients. Keep your routine basic and low maintenance, and your skin is likely to take care of itself!
Fungal Acne-prone
Use Oat So Simple Water Cream as is! It was specially formulated to be safe for fungal acne-prone skin, so you don't need to do anything more to it. If you are feeling mainly dry, try mixing in squalane oil for extra hydration. 
Eczema-prone
If you have eczema, you may have a damaged skin barrier. This weakened state means that your priority should be repairing and restoring the health and functionality of your skin barrier. Using non-irritating products during an outbreak is key to not cause further irritation. Try mixing Oat So Simple Water Cream with a skin-repairing serum (like our Great Barrier Relief 😉) for the ultimate soothing powerhouse. 
Congested
If you have congested skin (e.g., clogged pores, whiteheads, etc.), try using an AHA exfoliator to help with discoloration, sun damage, and fine lines. However, if you're new to AHAs or chemical exfoliators in general, we always recommend easing yourself into it. An easy way to do this is by mixing it in with a simple moisturizer. If you're a pro, feel free to go straight in like you typically would and follow up with a soothing moisturizer. 
Hyperpigmentation
If you have discoloration, post-acne marks, or uneven skin tone, you may want to give Vitamin C a shot. It's great at brightening your skin and reducing the appearance of dark spots. It's also an amazing anti-aging and antioxidant-rich ingredient!

If you've never used Vitamin C, it may be helpful for your skin to slowly get accustomed to it by diluting it in your moisturizer. If you have used Vitamin C, you may have seen more options in a powder form as that is supposed to make the ingredient more stable, so mixing it in with a moisturizer allows the powder to apply more easily onto your skin. 
Dry
Layer, layer, layer! If you haven't found a moisturizer that's hydrating enough for you and that doesn't irritate your skin, then layer Oat So Simple Water Cream to get the appropriate amount of hydration for you. At night, you can use the water cream as a sleeping mask by packing on a generous layer and leaving it on overnight. During the day, you can also mix in your favorite facial oils for that extra layer of hydration. 
Mature
For those with mature skin, or anyone who wants to prevent signs of aging can mix retinol into their moisturizer for added anti-aging benefits. Similar to AHA, if you dilute the retinol in a simple moisturizer, it'll make it easier for your skin to tolerate the ingredient, which is known to be a little sensitizing at first. 
And those are our tips to address your skin concerns while prioritizing your skin's health and using a simple moisturizer, like our Oat So Simple Water Cream.

How do you use Oat So Simple Water Cream in your routine? Share in the comments below!