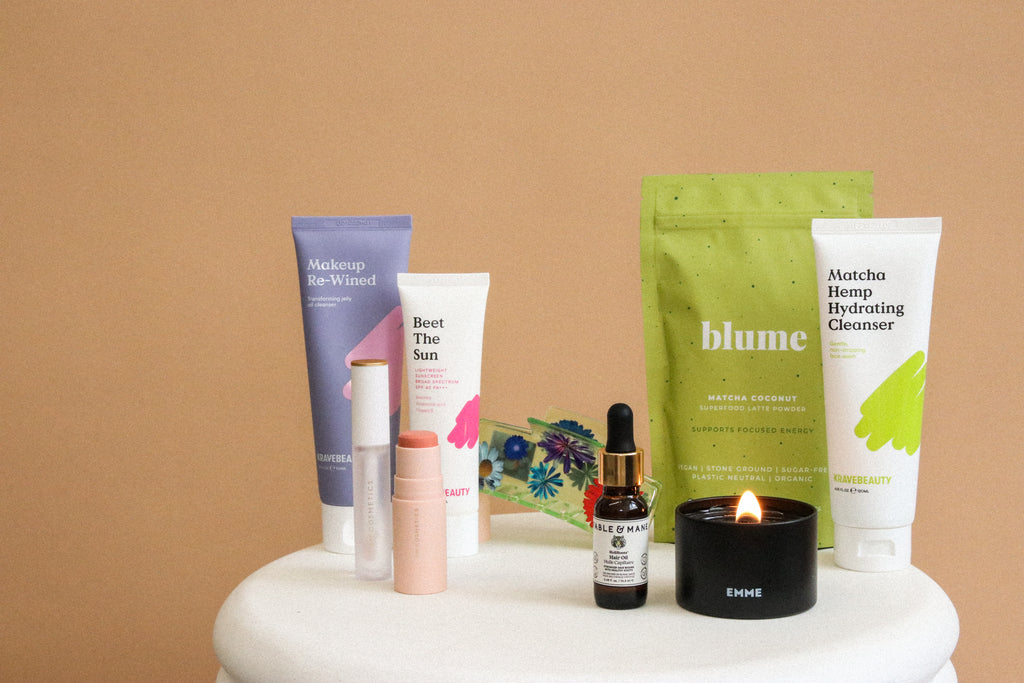 KraveBeauty 101
Our AAPI Heritage Month Collaborations
To celebrate AAPI Heritage Month, we worked with 5 different AAPI-founded brands to uplift them and their work. Read on to learn more about each brand and how each founder's cultural heritage influenced their work!
At EM, they strive to create products that illuminate your natural radiance. With integrity and purpose in everything they touch, they combine refined textures with skin-nourishing ingredients for a high-performing, elevated experience that brings a sprinkle of magic to your life!
About the Founder
As one of the first beauty influencers on YouTube, Michelle Phan has inspired millions with her makeup tutorials and innovative approach to beauty. Now as the founder of EM Cosmetics, she continues to empower people to embrace their own unique beauty!
How has your cultural heritage influenced your business?
"The name of my beauty brand is inspired by the Vietnamese word 'Em' which is how you address someone younger than you, a little sister, a little brother, someone you care for that's younger than you."
What Chinese Zodiac would represent your brand and why?
"It would definitely be the rabbit because it's linked to luck and it's so cute. However, in the Vietnamese Zodiac, it's the cat! They're super elegant and also cute."
Their mission at EMME is to bring the authentic scents of Asia into the homes of people all around the world. They believe that the power of fragrance has the ability to transport us to different places and cultures, and are committed to bringing the beauty and diversity of Asia into the homes of their customers.
About the Founders
When Mark and Erica moved across the country from San Francisco to New York, they found themselves not only missing home but longing to connect to their Asian American heritage that was previously ingrained in their daily lives. In 2020, they were then inspired to create a line of candles that would bring the familiarity and comfort of their Asian heritage to others who were feeling homesick.
How has your cultural heritage influenced your business?
"The business was founded in 2020 right after my husband and I moved across the country from San Francisco to New York. As the uncertainty of the pandemic set in, we found ourselves not just missing home, but longing to connect to our Asian American heritage that was previously ingrained in our everyday lives. After experimenting with a few candles, we quickly realized the home fragrance industry lacked authentic Asian representation and that no mainstream brand was dedicated to the classic Asian scents and flavors we grew up with. EMME was founded with two objectives in mind — to ease the homesickness of people like us whose core memories were tied to these smells and ultimately to correct the lack of authentic Asian representation by sharing our culture with the mainstream industry."
What Chinese Zodiac would represent your brand and why?
"Our business was founded in 2020 which makes our Chinese Zodiac the Rat! As a small business we find ourselves thinking on our feet every day coming up with creative solutions to make the business work."
Blume is a simple way to enhance your daily rituals with lattes, done better. Whether it's at a cafe or in your own kitchen, you can now give your coffee a tasty superfood boost or swap it entirely for your favorite latte flavor that doesn't compromise your wellness goals.
About the Founder
Karen Danudjaja used to work in commercial realty and would fuel herself with caffeine to get through the day. Although she was energized, she saw how it affected her sleep, digestion, and hormone balance which jump started her search for alternatives and led to the start of Blume!
How has your cultural heritage influenced your business?
"Growing up, whenever I felt sick, my dad would make me a cup of Jamu, a traditional Indonesian turmeric elixir known to boost your immune system. In my 20's, when I was working at my corporate job, I fueled myself with caffeine and it really affected my sleep, digestion, and anxiety. So, I went looking for an alternative to replace my cups of coffee and rediscovered my appreciation for Jamu. Wanting to share my love for turmeric with the world, I began experimenting in my kitchen to adjust the recipe to fit the North American palate. It's really all thanks to my cultural heritage and my dad introducing me to superfoods all those years ago that the Turmeric Latte was created and Blume was born!"
What Chinese Zodiac would represent your brand and why?
"The Chinese zodiac sign that best represents Blume is the Dragon. We're all about making the wellness space more fun, playful, and easy to navigate, and our colorful superfood lattes are a great introduction to self-care. Our women-led team is not only ready to tackle all of the challenges that come with running a startup, but make waves in the category with our certified organic, plant-based, and thoughtfully made latte blends. We're committed to leading with our hearts, being transparent with our community, and leaving Mama Earth a better place than we found it."
Plant-powered by conscious, Ayurvedic-inspired formulas, Fable & Mane shares Indian beauty secrets for a beautiful mane, mind and world.
About the Founders
Siblings Nikita & Akash Mehta founded Fable & Mane to celebrate their Indian heritage and highlight the age-old ritual of Indian hair oil massage in their work and products.
How has your cultural heritage influenced your business?
"Fable & Mane was created to bring ancient Indian beauty secrets to the modern world, as an homage to our grandparents and South Indian roots. When we were young, our grandma would visit with her handcrafted blend of Ayurvedic plant oils and give us a head massage, focusing on the crown chakra to alleviate stress and tension from the roots. While she massaged, she told us fantastic fables about India's rich plant and animal kingdom. The combination of the fables and the hair oiling massage eased our minds so perfectly and it was something we always looked forward to, and how we came up with the brand name 'Fable & Mane'. After suffering from our own hair loss issues during a stressful period as adults, we went back to our childhood hair rituals and Indian roots to find a holistic way to strengthen and nourish our scalp and hair."
What Chinese Zodiac would represent your brand (Tiger, of course) and why? 
"We'd go with the tiger as it is a symbol of freedom and strength and the protector of the forest and the heart of India's wild. We want everyone to embrace their mane and indulge in our rituals for stronger, healthier and more hydrated hair. The Fable & Mane tiger is fierce, beautiful and majestic — he represents healthy hair that's wildly you."
Chunks is a high quality, affordable, trend-forward line of hair accessories, proudly and responsibly made in Jinhua, China. We are the new generation of brutally honest brands that blend joyful products with ethical accountability.
About the Founder
Tiffany Ju launched Chunks out of her house in 2019 after finding it difficult to find cute, high quality hair clips. Within a few years, her one-woman operation grew to a multi six-figure business, operated by a small but mighty Seattle based team.
How has your cultural heritage influenced your business? 
"I've always been passionate about responsible manufacturing from an environmental perspective but I also realized how stigmatized specifically Chinese manufacturing has become. Being Asian, I think I was more sensitive to this kind of negative stereotyping and really wanted to have conversations in order to dispel some of the false assumptions. These kinds of values are a huge part of who Chunks is."
What Chinese Zodiac would represent your brand and why?
"Probably a Monkey! Might be a bit all over the place at times but we're just having fun."