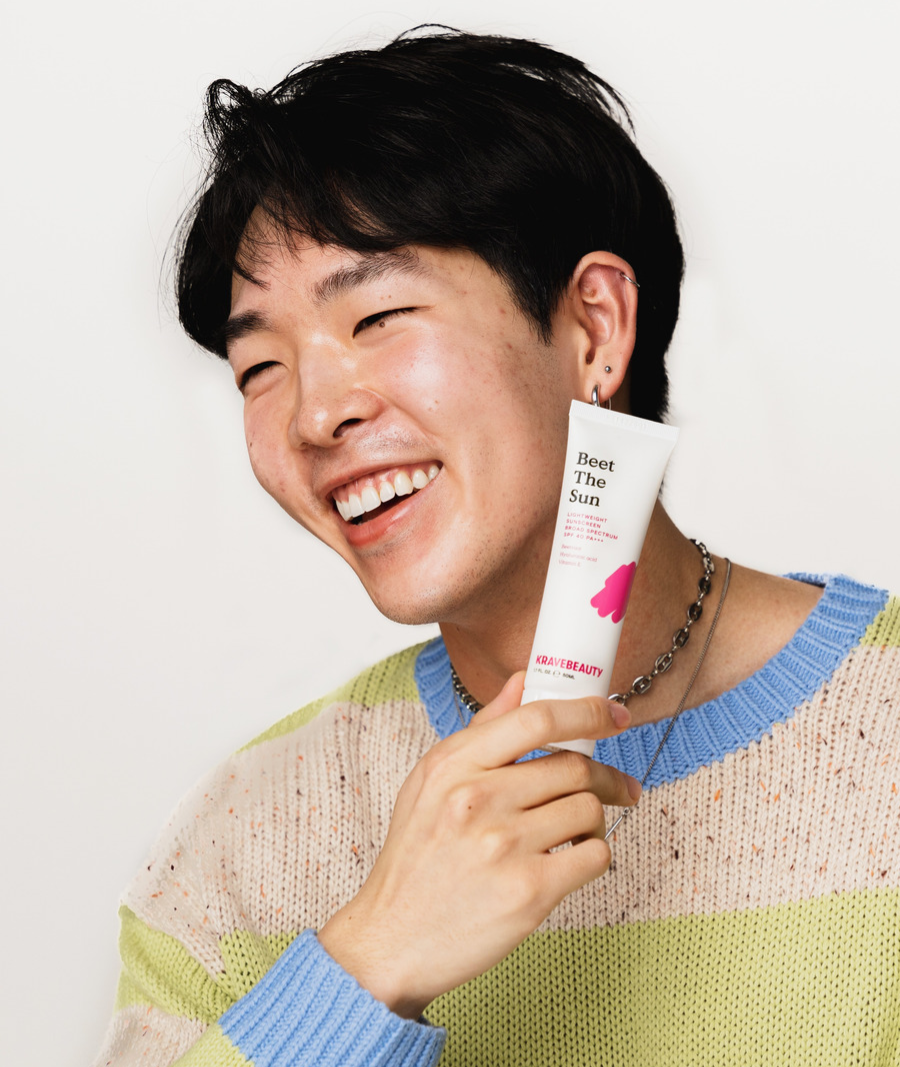 KraveBeauty 101
The BTS of BTS: Everything You Need to Know About Beet The Sun
After years of anticipation, we're finally able to share Beet The Sun SPF 40 PA+++ with our community! Thanks again for being so patient with us, so here's everything you need to know about this product.
How was Beet The Sun tested?
Sunscreen in the U.S. is considered as a drug, so we looked for reputable and reliable labs that had experience with OTC drugs that followed ISO and FDA standards. We also wanted to make sure that they were aware of the variabilities within the SPF testing method and had successfully demonstrated claims with the FDA and other global regions. To know more about the intricacies of the SPF system, check out our blog post about it!
After our search for labs, we conducted a total of 6 tests: 2 FDA Broad Spectrum Tests, 2 FDA SPF Static Tests, 1 ISO 24444 (2019 version) and 1 ISO 24442. It's common practice to only perform each test once, but we knew it was important to be extra clear. Here's how we tested:
You can find the full test results here if you want to know more.
Why'd you take so long to come out with BTS?
The process to create a sunscreen takes longer compared to other skincare products - 22 months for SPF formulations vs. 10 months for other products. We wanted Beet The Sun to perform as well as its predecessor, but using FDA-approved filters meant we had to do a lot of brainstorming. Picture the Spongebob meme with all the Spongebob clones running around feverishly and that was how Team KB looked like.

So what's the formula like?
Beet The Sun SPF 40 PA+++ is a chemical sunscreen that combines UV protection and antioxidant properties from supercharged beetroot extract. Other key ingredients to note are:

Vitamin E to help reinforce barrier repair and smooth out the look of skin.

Hyaluronic Acid to attract and retain moisture throughout the day.

Propanediol to help prevent skin damage and further water loss.
It has a fragrance-free formula that quickly absorbs into all skin types without any whitecast and no pilling! The texture is also lightweight and provides a  natural to glowy finish. To see what else is in this formula, you can find the full ingredients list here.
What about the sunscreen filters?
For the sunscreen filters in Beet The Sun we have:

Homosalate 10%

Octisalate 5%

Avobenzone 3%

Octocrylene 3%
And before you ask, Beet The Sun is not reef safe, but it could also be depending on where you get your sources from. It's confusing - we know - so this is what we found during our research and development phase! 
"Reef safe" SPF is a marketing claim that's not regulated by the FTC or the FDA, and it's a topic that still needs to be researched with more data to understand the true effects of UV filters on our environment. You can refer to this article by the National Academy of Sciences which found that the current evidence and data doesn't show that UV filters have an impact on coral health. As important as it is for all of us to not pose a threat to our environment, the EPA still needs to conduct an ecological risk assessment on all UV filters to make a conclusive statement.
How do I use BTS?
As the last step of your daily morning routine, you want to apply two fingers worth of Beet The Sun on your face, neck, and ears 15 minutes before sun exposure. You also want to make sure to reapply every 2 hours to stay protected from UV rays.
What about removing it - what do I need to do?
When you return home and get started with your night routine, Beet The Sun can easily be removed with your cleanser. However, double cleansing or using an oil-based cleanser can ensure you get all of the product off plus all the accumulated dust and dirt from the day!
How long can a bottle last and what do I do after?
With daily use, you can use Beet The Sun up to a month, so when you're finished with a bottle this is what you can do.
The tube is made of  90% PCR CoEx with CoEx having a mix of 3 different plastics - LDPE, PCR HDPE, and EVOH. 

It might not be recyclable in most of the US, Canada, Australia, and New Zealand, but we do have

a recycling guide

to help connect you to resources so you're able to properly dispose of it.

The cap is made from 100% PCR PP [5]. 

If your recycling program accepts type 5 plastic, you can toss the cap into your recycling bin!
If there's anything we missed or you still have questions, you can reach out to us on socials @kravebeauty or send an email to hello@kravebeauty.com!