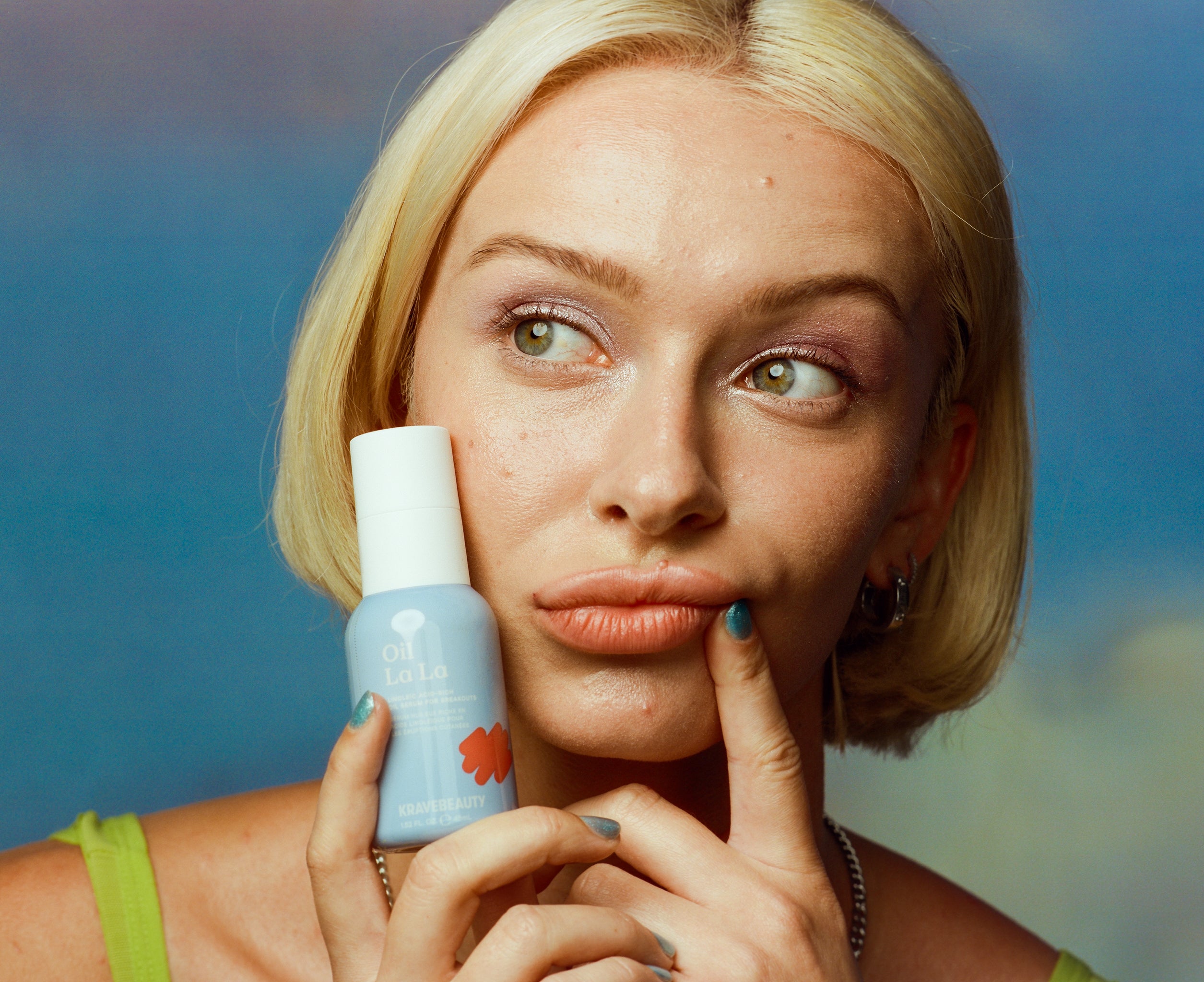 KraveBeauty 101
6 Different Ways to Use Oil La La
 Finding the perfect balance for your skin can often feel like a challenge, but with Oil La La, the journey becomes a whole lot easier. Infused with a blend of high linoleic acid-rich oils, peptides, and skin-loving ingredients, Oil La La gives a unique and gentle solution for balancing and soothing troubled skin. In this blog post, we'll dive deep into the formula of our latest serum and several different ways you can use it in your daily routine!
1. For Stretch Marks & Scarring: Oil La La contains Rosehip Oil which can help reduce the appearance of stretch marks and scars due to its high fatty acid content. Fatty acids are needed for cell regeneration and aids the healing process for more even skin.
↳Pair Oil La La with Great Body Relief to deeply moisturize skin, repair your body's skin barrier, and reduce scarring or stretch marks.
2. For Cracked Heels: A mixture of pressure and dryness can cause cracked heels. The Shiunko Oil in Oil La La increases moisture and soothes irritation, so it can reduce the redness of cracked heels and gently hydrate your feet.
↳Try massaging Oil La La onto clean, dry feet at night then wear a pair of socks to make your own DIY foot mask.
3. For Dry Elbows: Dry elbows can happen due to a variety of factors — friction with clothes, being dehydrated, or having a specific skin condition. Oil La La can help with dry elbows in a similar fashion as cracked heels, but here's a twist!
↳Sometimes, it can be difficult to moisturize that area because there's too much built-up dead skin cells in the way. Use a gentle chemical exfoliant like Kale-Lalu-yAHA to exfoliate the rough, dead skin build up then massage Oil La La into your elbows which has Vitamins E to restore moisture.
4. As A Last Minute Cuticle Oil: Doing a regular manicure at home? When you're done cleaning up your nails, you can use Oil La La as a cuticle oil in case you don't have any! It has a mix of nourishing omega fatty oils like Sunflower Oil which can help moisturize your cuticles, prevent hangnails, and promote nail growth.
↳Extra tip, if you're doing an at home or in salon gel mani, apply some Beet The Sun on your hands to protect you from the UV lamp when you cure your nails.
5. As A Hydration Booster: Several Team KB members LOVE mixing in Oil La La with Oat So Simple Water Cream to further hydrate their skin without leaving it feeling heavy. These two also have calming, skin-barrier loving ingredients like Oat and Madecassoside to reduce redness and soothe inflamed skin.
6. As A Serum: And the last way is the OG way! You can use Oil La La as the last serum in your routine before you apply your moisturizer to support a healthy sebum composition without drying your skin out.
Not only can you give breakouts the oil treatment, but you can now utilize and incorporate every last drop of Oil La La in your self care routine!