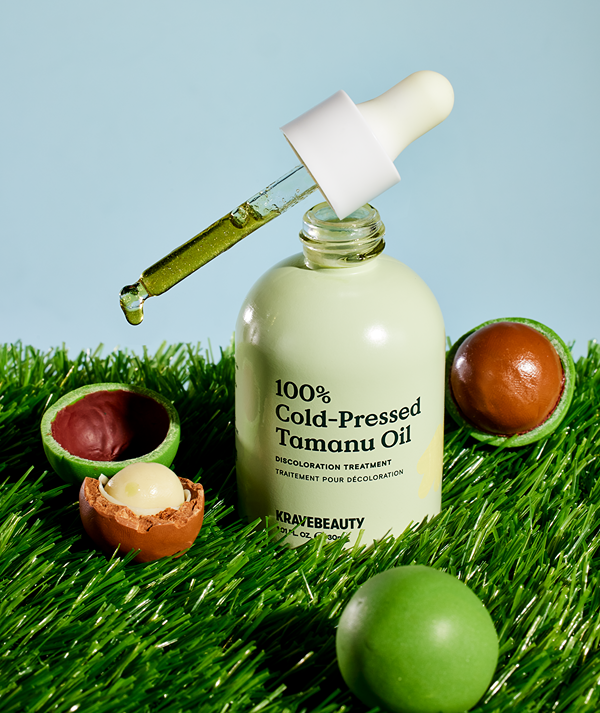 KraveBeauty 101
How to Get the Most Out of 100% Cold-Pressed Tamanu Oil
Hey KB Fam, I'm 100% Cold-Pressed Tamanu Oil! I was made in partnership with the Women's Earth Alliance and the women tamanu farmers who helped make me complete. I may only be here for a short amount of time (because I am limited edition *wink wink), but here's the breakdown on how you can get the most out of me:
Physical Body Scrub - Oils are often combined with natural exfoliants like sugar or salt to create a DIY scrub. Mix tamanu oil plus a lighter oil like almond or coconut oil with your choice of sugar or salt to exfoliate dry patches or prep skin before shaving! Do this 2-3 times a week and you'll have soft, supple skin before you even step out of the shower.
Serum Booster - Serums like Great Barrier Relief and Oil La La are best used after cleansing and before moisturizing to better soak into the skin. Since 100% Cold-Pressed Tamanu Oil is packed with antioxidants and lipids, you can mix a drop of it to your serums to give it a boost of hydration and soothe signs of sensitivity like redness or inflammation.
Spot Treatment for Blemishes - Not only is tamanu oil known to hydrate skin, but it's also a contender against tea tree oil as a spot treatment for acne and blemishes. Because of it's antimicrobial and anti-inflammatory properties, tamanu oil can help soothe and reduce the size of active breakouts! However, we always ask our customers to do a 24-hour patch test or speak with their doctor first before applying a new product onto their skin.
Accelerate Wound & Scar Healing - While tamanu oil should not be used on broken skin or open wounds, you can still use it to help reduce the appearance of scars once they are completely healed! Tamanu oil is best known for its regenerative skin cell properties and is known to aid in the production of collagen which can help with the look of dark spots or scars on your skin. You can mix a couple drops of 100% Cold-Pressed Tamanu Oil with a body lotion like Great Body Relief to further moisturize and even out your skin from head to toe.
Cuticle Softner - Too busy to get a mani or just need a quick fix for dry cuticles? Add a couple drops of 100% Cold-Pressed Tamanu Oil to a small bowl of warm water then soak your hands or feet for a few minutes. Your cuticles and skin will be softer and feel more hydrated so give it a shot if you need a last minute solution.
Oil Treatment for Dull, Dry Hair - Not only is 100% Cold-Pressed Tamanu Oil used on the body, but you can also use it for your hair! One of our team members is a chronic, at-home hair dyer, so to help any dryness or itchiness they feel after, they massage a couple drops of tamanu oil into their scalp and hair for 5 to 10 minutes before hopping into the shower! It can help hydrate your locks and tame frizziness or dullness while creating a nourishing scalp environment to help promote hair growth.
Now that's how tamanu oil acts like a multipurpose oil! Whether you use it on your body or hair, it can offer so many benefits and uses. You can welcome the magic of our limited edition 100% Cold-Pressed Tamanu Oil, strengthen and nourish your skin and hair, plus give back to the people who helped make this product come to life!
If you want to learn more about our project with the Women's Earth Alliance, head HERE to get the full story.