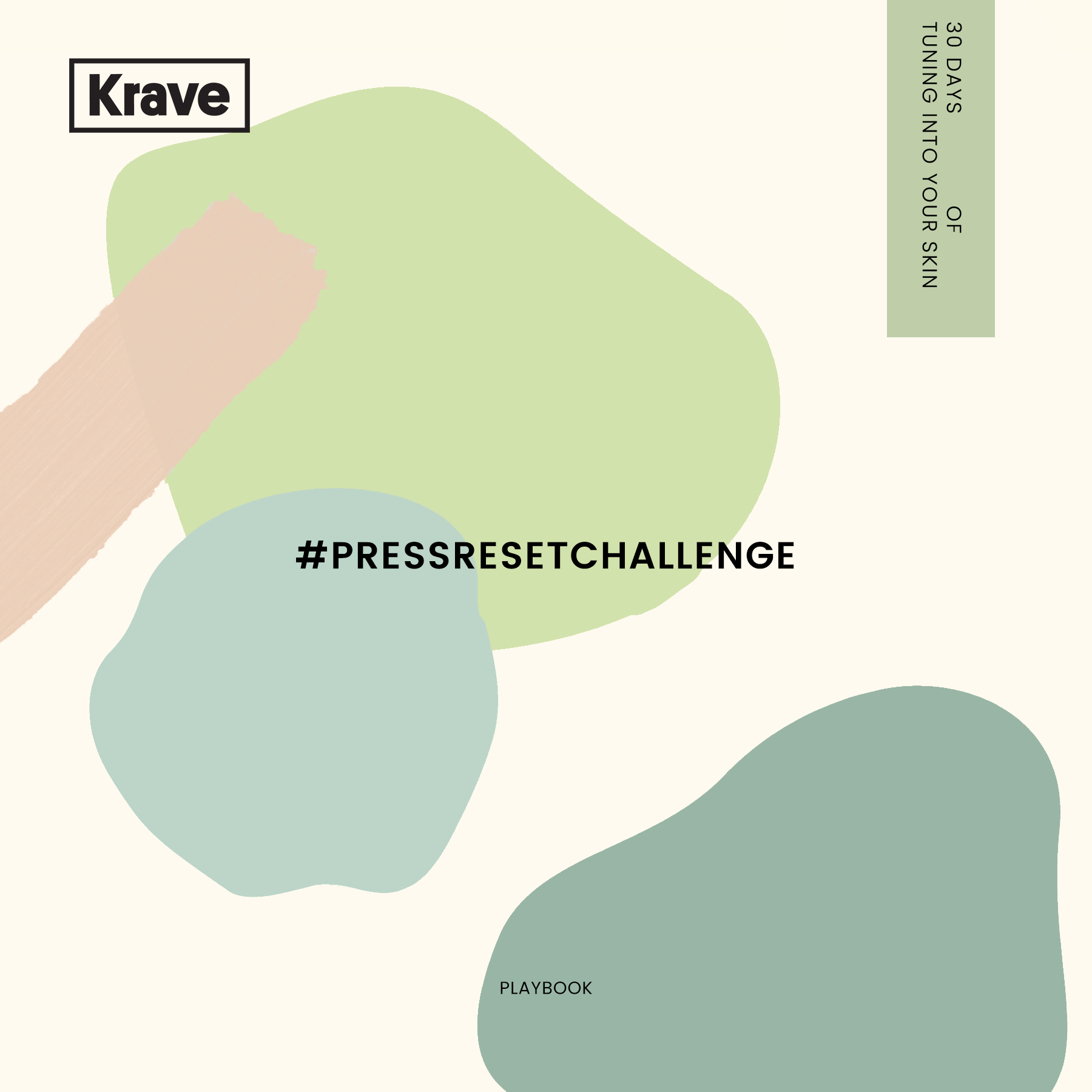 KraveBeauty 101
The #PressResetChallenge Guide: An Overview of Your Journey
Disclaimer: The following content you are about to read is long af, but important if you're partaking in this challenge. 
TLDR; we're hosting a 30-day social media challenge starting 1/1/2020 to get you seriously in tune with your skin. To play, check out the downloadable PDF version of our #PressResetChallenge Playbook here or if you've ordered from us in the previous weeks - you may have seen it in your mailer! And don't forget to use the hashtag #PressResetChallenge - you may or may not be entered in a giveaway if you share your progress ;) 
__________________________________________________________________________
Welcome, friends! You're probably here because you want to learn a little bit more about this whole #PressResetChallenge thing you've been seeing on our socials. Well, we are happy to help. 
The information below is a guide to help you make the most of the 30-day challenge of seriously tuning into your skin. The journey will be different for everyone (aka results may vary), but the most important thing is that you are (1) tuning into your skin more and (2) eventually, practicing seriously intentional skincare. You got this!

And if you need a little more assistance on the way, don't hesitate to dm us, email us, shout from the rooftops and/or leave us a comment on the gram. Talking about skin is one of our favorite things. Ever. Next to birthday cake. So really you'll be doing us a favor.

Here's the rundown: 
What's the #PressResetChallenge again?
It's a 30-day social media challenge starting on January 1st that helps you get in tune with your skin's true cravings and empowers you to practice seriously conscious, intuitive, and intentional skincare. We hope it helps you develop a healthy and thriving communicative relationship with your skin. Because isn't that what we all want?
Why should I participate in the #PressResetChallenge?
Besides the fact that there's a suuuuper cute booklet that goes along with it, give it a shot if you've ever wanted to learn more about your skin, be confident in your skin care practices, allow your skin to function on its own, and/or identify your skin's true cravings.


Who should participate in the challenge?
If you check any of those boxes and sometimes use products that you don't even know what their purpose is, then this may be just the challenge for you.

On the other end, it may not be for you if you've already uncovered your skin's cravings. Or if you're on a professionally recommended skin regimen. P.S. If that's the case, and you still do want to get in tune with your skin by participating, make sure to consult with your medical professional before starting the challenge. 
What is the goal of the #PressResetChallenge?
The goal is ultimately whatever you want it to be! The reason we're hosting it is to get you in tune with your skin, to provide you a new way of approaching skincare and to reset your skincare "essentials". We believe this will help you achieve your healthiest skin and when you're not stressing about just all of it - hopefully, it will make skincare fun again. 
And you may ask, how do I go about achieving that goal?
We've got an answer for that: try to truly listen to your skin throughout the whole experience and be totally real with it. When you're choosing what products you're using for the month, make sure they're products that you know work for you and your skin and that allows you to realize certain things about your skin that you may not have known before.


Let's say, maybe your skin is thriving while only using the basics (cleanser, moisturizer, SPF), which would be amazing. And because it's thriving, you realize that before, when you were using a ton of products, your skin was not thriving. That could be because you were applying too many AHAs, serums, toners, and your skin didn't like it, but you didn't realize that until you actively cut back to only the basics. You know?

We hope this challenge helps you figure out what products are actually effective for you and which ones, might not be doing that much in the long run!
Alright, time to get into the nitty-gritty. Here's how the challenge works: 
Starting 1/1 you'll be guided along on our socials by our friends and active members of our community, Thomas and Alice. Throughout the 30 days, you'll check in with your skin daily so that you can make sure you're giving it what it craves and also learn more about it. 
How do I play?
You can play on your own but it's a lot more fun with the booklet (which you can download here!).
So, on day one, the first thing you should do is take a selfie bare-faced! And keep it till the end of the challenge. Then, you'll start stripping down your routine to only the core basic products which are cleanser, moisturizer, and sunscreen. And you'll use those products for 15 days. This will give your skin the chance to rebuild itself by removing any strong actives, harsh treatments or unnecessary products that aren't benefiting your skin, and might be compromising your skin barrier. Make sure you're using products that you know work for you and that prioritize hydration and nourishment. 
Then, during those 15 days of using core products, you'll jot down in the booklet what your skin is feeling each day. Is it feeling oily, dehydrated, sensitive? Or is it feeling amazing? We hope it's the latter! Whatever it is, though, remember that tuning starts with you paying attention to your skin. 
After day 15, it's time for the big leagues: supplements. This is where it's most important to identify your skin's cravings so that you can slowly, one by one, add in your supplemental products - if you even need them. If you need some help figuring out what you need, we've got you covered with a whole blog post about supplementary skincare products for your specific concerns.  
For the next 15 days, it's time for more tracking! Continue to use your core products, but also add in the supplementary products along with it. Add in no more than one supplementary product every few days and adjust your routine, if needed. 
Then at the end of the challenge, take another selfie and hunt down your old one to see how your skin's changed. Also, look back at your daily tracking and open the last page of your booklet.

Has your relationship with your skin changed over the last 30 days? If yes, how so? What have you learned about this journey to #PressReset and beyond? Write it all down! Now you can decide how to proceed with your routine. If just using the core worked for you, maybe try going another month. If not, use the supplements that your skin's craving. 
Overall, stay positive and don't stress! This is super low pressure, and you can do what feels right for you. Set your skin up for the new year, understand your skin more and get in tune with you. Most importantly, have fun and you do you. And don't forget to use #PressResetChallenge if you decide to document your journey. We'll be doing giveaways all month long for people who use the hashtag. 
And again, if you ever have any questions/comments/concerns, we're here for you. Let's do this thing. It's time to tune in.