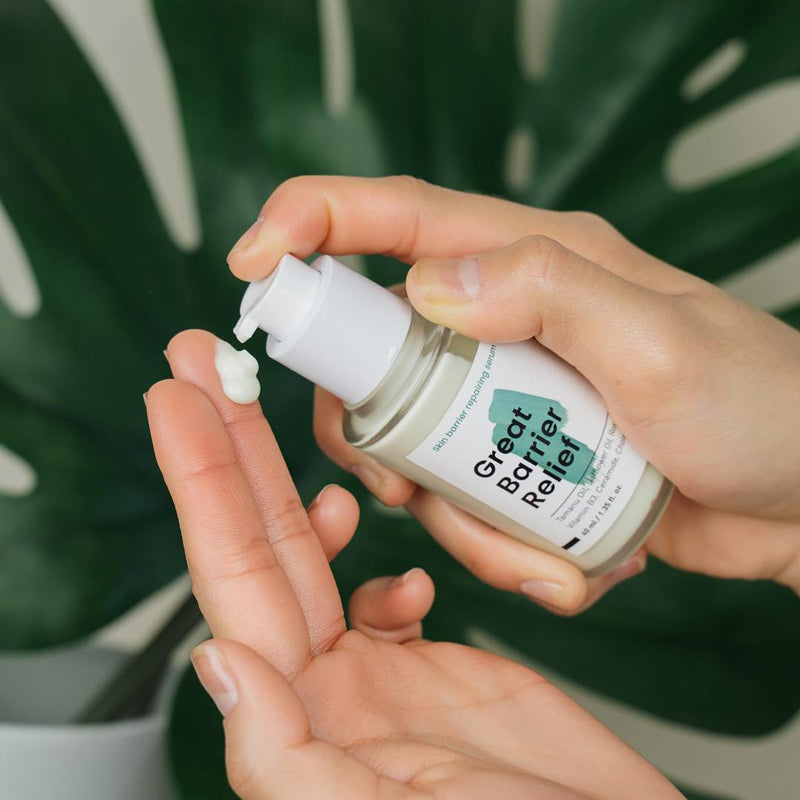 KraveBeauty 101
Great Barrier Relief: Everything You Need to Know
We live in such a fast-paced world where school, work, and our daily lives often take a significant toll on our mental health. We regularly feel overwhelmed, stressed out and all around not in a good mood because of all the crazy noise that's going on around us! Sounds familiar? When this happens, it's so important to take a step back and take some time for ourselves. Did you know that the same thing can happen to your skin? It, too, gets overwhelmed, and it needs time to reset and regroup so that it can function at its best. 
Our skin often just craves some relief. This happens from trying too many products at once, washing our face too often, using harsh treatments, or even when we're just feeling super stressed out. That's when Great Barrier Relief comes in handy. It helps your skin rebuild whenever it's feeling extra irritated and in need of some TLC.
So what exactly is Great Barrier Relief? Is it a serum or a moisturizer?
Great Barrier Relief is a serum! It soothes your skin and restores your damaged or weakened skin barrier by using ingredients (Ceramides, NMF, Cholesterol) that mimic a healthy skin barrier. Bonus point: since it contains tamanu oil, it also even out your complexion!
How do I use it?
There are no rules with Great Barrier Relief! Most people apply one or two pumps of GBR before their moisturizer or as a replacement of their moisturizer. If your skin is dehydrated, try using an occlusive or moisturizer after GBR to make sure you're giving your skin the hydration it may crave. 
You should reach for Great Barrier Relief whenever your skin is feeling irritated, which might not be every day or even every week. Apply GBR during those times when your skin needs some extra love. 
Can it be used for combination and acne-prone skin? 
Great Barrier Relief can be used for combination/acne-prone skin! GBR contains tamanu oil, which has excellent anti-inflammatory and anti-bacterial properties that help in treating acne. Tamanu oil also works well for targeting discoloration caused by post-acne marks. 
However, tamanu oil itself is slightly higher in oleic acid content than it is in linoleic acid. And when our skin is deficient in linoleic acid, that lack can cause the skin's natural sebum to become gloop-ier and can cause clogged pores and acne. So to balance out the formula, we've included other amazing oils, like rosehip and safflower oil, that are higher in linoleic acid content and great for acne-prone skin.
Everyone's skin is unique, so we recommend that you exercise caution when trying any new product and start with baby steps! Our tip is to try a small amount on one patch of your face or neck before you apply liberally. 
Is it fungal acne safe?
Great Barrier Relief is formulated with oils that are not suitable for fungal acne, so we'd recommend not using GBR on areas where you have fungal acne. 
How much Niacinamide does Great Barrier Relief contain, and can I use other Niacinamide products at the same time?
Great Barrier Relief contains 2% Niacinamide. It's best not to use two serums that contain Niacinamide in one routine. If you're using multiple products that contain Niacinamide, try alternating the nights that you apply them. 
Can I use actives (Vitamin C/Retinol/AHA) in conjunction with Great Barrier Relief? 
You definitely can! Great Barrier Relief works wonderfully with active ingredients or treatments such as AHAs, BHAs, retinol/retinoids, Vitamin C, etc. Great Barrier Relief will help buffer out any initial irritation that the active ingredients can cause, which will give your skin a major sense of relief.
The damaged skin barrier can happen anytime to anyone, no matter what main skin concern you have. This is why it's so important to have regular check-ins with your skin to make sure it's balanced, healthy, and resilient. Pay attention to the feeling of dehydration, flakiness, and increased sensitivity to products, since those are all signs of a damaged skin barrier.  
If your skin's ever feeling down -- no worries!  Great Barrier Relief will always have your back and set your skin on a healthy path to recovery and repair.
If you have other questions or concerns about Great Barrier Relief that we missed here, DM us, reach out to hello@kravebeauty or check out of Instagram story highlights!