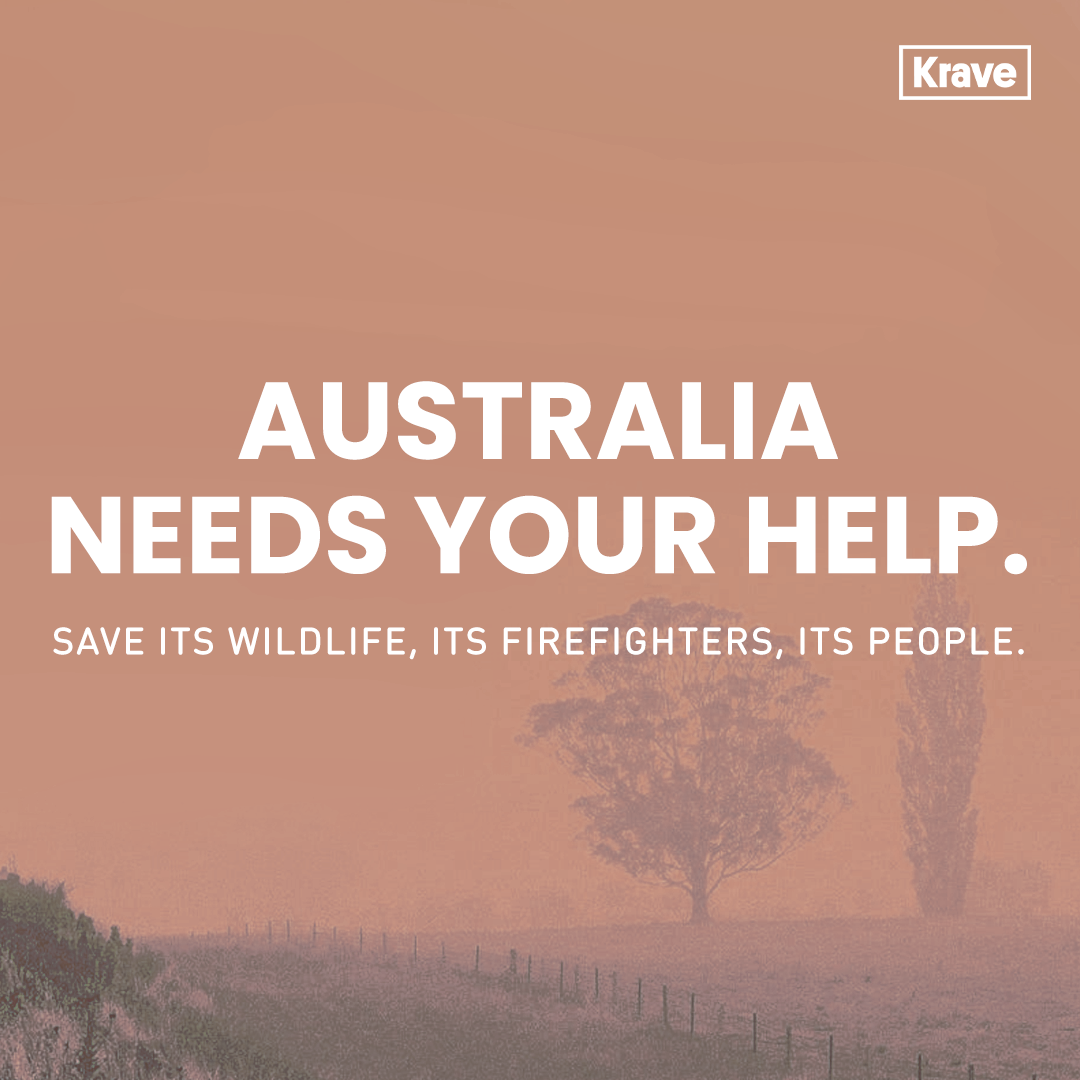 KraveBeauty 101
Help Australia Fight Against These Bushfires
Australia is burning, and it desperately needs our help. Millions of acres have been torched and entire homes have been burned down. Air quality in some regions is 20 times above the hazardous level. More than 20 people have lost their lives. About half a billion animals have been killed in New South Wales.
And although it may seem like, from recent media coverage, that the fires have just begun — they haven't. Australia has been in crisis mode since September 2019 and as it's only the start of their summer, the bushfires are forecasted to not be ending any time soon (and will likely continue well into 2020).
What's the cause of these fires?
There's a lot to it — but to sum it up, Australia has been experiencing fires for a while and has long understood the importance of fire management. However, the scale of fires that have been burning for the past few months is unparalleled and so, it's been difficult to manage them. 
Although these fires can start from a number of factors (like discarded cigarettes, lightning, and arson), the reason they escalate so quickly is usually due to lack of rain and low soil moisture, as well as hot temperatures and strong winds, which Australia has been seeing a lot of (in 2019 Australia experienced its hottest year on record). 
Does it have anything to do with climate change?
Yes, and no. The fires have not started due to climate change, but the severity of the fires is intensified by the effects of global warming. And the fires are definitely worse and more dangerous than they were years ago.
Also, fires can have a massive effect on exacerbating the effects of climate change by releasing carbon dioxide into the air — and Australia's fires have been estimated to have released 350 million metric tons. Experts say it will take approximately a century or more for that amount of carbon dioxide to be absorbed. 
Although climate change didn't directly cause the fires and the overwhelming amount of other natural disasters in the last two years, it definitely doesn't help alleviate the situation — which a healthier ecosystem might. 
How can we help?
As an environmentally-conscious brand and just plain old humans who care about the planet and the people who inhabit it, we're heartbroken for Australia. There's no question that we want to help in any way we can. 
For the rest of January, we're donating 100% of our sales from Great Barrier Relief to these organizations, up to $20,000. 
They are supporting thousands of people in evacuation and recovery centers across the country. Local residents can also volunteer their services.
New South Wales Rural Fire Service  
They have set up specific funds for the families of volunteer firefighters who have been killed while on duty this fire season.
They are helping evacuate, rescue and treat pets and wildlife in threatened areas.
Our on-going donations to the Great Barrier Reef Foundation of 2% of Great Barrier Relief's sales will continue after these efforts. 
If you'd like to donate directly, all of the below organizations could use your support (in addition to the ones listed above). No amount is too small. 
Australia needs our help. Save its wildlife, its firefighters, its people. 
Sources: 
https://www.cnet.com/how-to/australian-fires-everything-we-know-and-how-you-can-help/
https://www.cbsnews.com/news/australia-fires-how-to-help-victims-evacuees-firefighters-animals-wildfires/
https://www.cnn.com/2020/01/01/australia/australia-fires-explainer-intl-hnk-scli/index.html