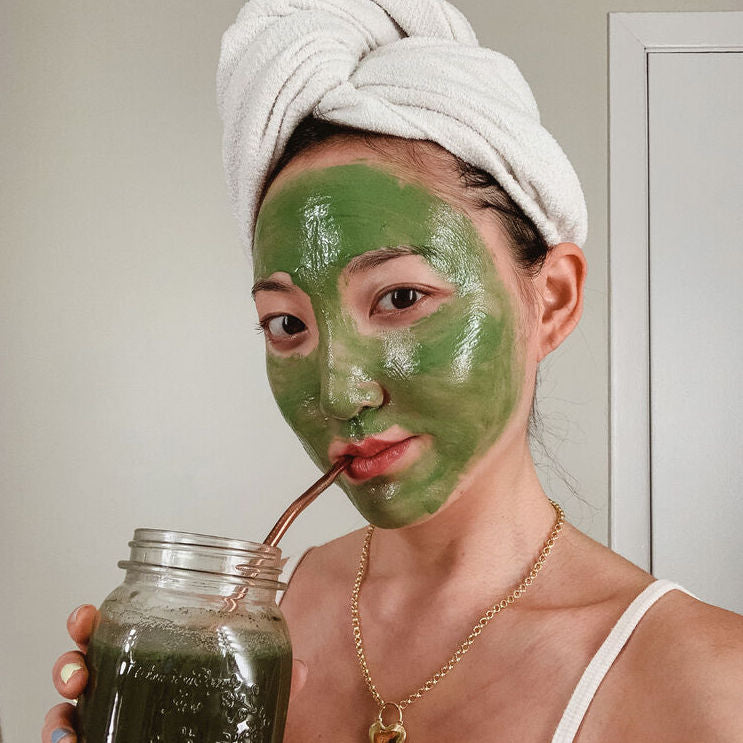 KraveBeauty 101
#PressReset Diaries: Meet Ava, Beauty Content Creator
Full Name: Ava
Occupation: Full time content creator
Location: NYC
Skin Type or Concerns: Dark spots and hyperpigmentation
Life Motto: Everything happens for a reason.
Fun Fact: I can't handle any kind of spice; I am the worst Korean. I'm that girl who asks for a bowl of water at Korean restaurants to wash off the spice. But somehow my taste buds can handle kimchi and I eat it everyday!
It's Ava here and more people seem to know me as @glowwithava these days. I am a Finance turned Skincare/Beauty content creator based in NYC and am excited to share more about my skincare journey. I'll share with you some of my top glow tips!


My Skin Journey | Let's start from the beginning

Growing up, I hated putting anything on my face; I never ever wore sunscreen and my mom would literally try and touch my face to make sure I applied sunscreen. I don't think I started wearing sunscreen seriously until about a few years ago… yes I am a little ashamed and deeply regret it. All throughout middle and high school, I don't think I ever went a day without a big pimple on my face, not to mention extremely visible blackheads and tiny bumps all over my face. My cheeks were always red too but my mom never let me wear makeup so it really hurt my self confidence. Because of this, I never considered myself "pretty" and still to this day, it makes me a little uncomfortable when someone says I am "pretty" or "beautiful." I never ever took pictures of myself and only after starting @glowwithava, I gained the confidence to start taking selfies and showing my true skin. I realized how powerful taking care of your skin can have on your self confidence and it has impacted so many aspects of my life.

Skincare Products I Can't Live Without
My favorite products tend to change season to season because my skin type changes from summer to winter. I am focused on tightening my pores and controlling sebum in the summer while in the winter I am treating my extremely dry and sensitive skin. KraveBeauty Great Barrier Relief has been a lifesaver for me this past winter to help me very sensitized skin. Whenever I go through flareups like this, I resort to the GBR and use it every night for a week and it works every single time.

My Current Skincare Routine
It's summer and I have been waking up to an extremely oily T-zone. So the first thing I do in the morning is washing my face with just lukewarm water then using a pore tightening toner with a cotton pad. I'm currently testing a lot of new toner launches. I usually only use exfoliating toners at night but lately I've even been using them in the morning especially if I know I won't be going outside. I then just go in with a hydrating and/or brightening serum and a lightweight moisturizer. KraveBeauty Oat So Simple Water Cream is the perfect moisturizer to use on my face and neck during the warmer months. Then of course, SPF SPF SPF indoors or not!!! 


What #PressReset Means to Me
#PressReset is applicable in so many different aspect of my life. I am someone who doesn't have that much patience, always on the go, and always trying to multi-task. While I do love the hustle, I tend to overwhelm myself by trying to do too much at once. 
I have been making a conscious effort the past year to really take breaks when I need. I sleep in, I go for longer walks, I put my phone on airplane mode, and spend more time reflecting on myself. It doesn't always have to be during the weekends; I take breaks when my body tells me to. This also applies to my skincare, beauty, and diet. I am constantly testing skincare products which tends to overwhelm my skin a lot. When that happens, I go on a whole skincare diet and only stick to the same routine for a few days or even skipping certain products in my routine like a moisturizer. I listen to my skin and give it what it needs. Same goes for my diet - I've been eating a lot of ramen during quarantine and when my energy level just isn't the same as before, I actively tell myself no and stick to a healthier diet. It's all about the balance- I am never one to stick to a certain diet and only stick to certain ingredients in skincare per se but I am a big believer in listening to your skin and gut and giving it what it needs. 

What I've Been Loving 

Makeup
What was your favorite makeup product in July?
I haven't worn much makeup at all but been loving the Westman Atelier Highlight Stick to give a natural glow. Sometimes I just wear this on top of my sunscreen as a topper!

Books/Music
What was your favorite book/music in July?
Favorite book was The Ride of a Lifetime by Bob Iger. I am a huge biography junkie and this one was a fascinating read.
I have to mention this but my favorite Korean drama was The World of the Married - it's a must watch!! Get ready for a real thriller.

Places
What was your favorite place you visited in July?
Trader Joe's without having to wait in line for over an hour.