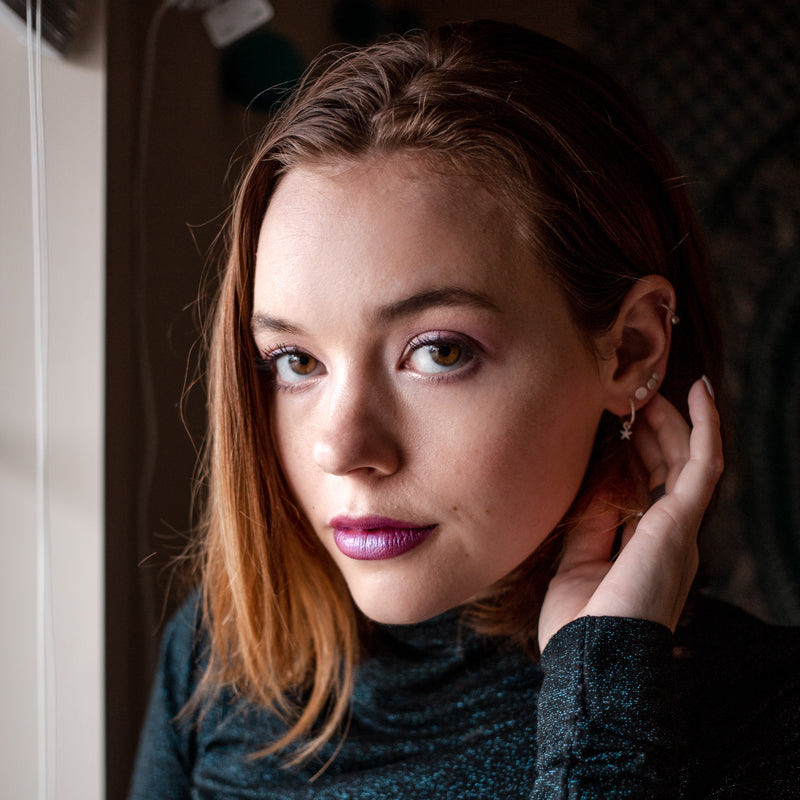 KraveBeauty 101
#PressReset Diaries: Meet Ellie, Student & Photographer
Hey! I'm Ellie and I'm a recent college grad who loves all things beauty, especially skincare. I'm excited to share a bit about myself and my #PressReset journey, since selfcare is so important to me! I'm a long-time viewer of Liah's channel and I'm so excited to be a part of this series!
Full Name: Ellie McDearman
Occupation: College Student and Freelance Photographer
Location: Columbia, SC but soon New York, NY
Age: 22
Skin Concern: Oily/Combo, Acne-Prone
Life Motto: Hard work = success
Fun Fact: I'm allergic to a ton of foods – don't even try to take me out to dinner
My Skin Journey
Since I was around 14 years old I've struggled with lots of different skin concerns, but mainly acne. I used to be super self-conscious about it and would coat my face in foundation, never letting my skin and breathe. And I used harsh scrubs and products targeting my acne from the drugstore. I really had no knowledge of what my skin actually needed. I would see a product with the word 'acne' in it and would use it right away. This ultimately ruined my skin barrier and caused my rosacea to be even angrier and resulted in even more acne.

Flash forward to high school, around sophomore year I discovered the world of skincare Youtubers. I started to watch Gothamista and Liah Yoo (the amazing founder of KraveBeauty). They both had SO many videos on how to properly treat acne in a gentle way; and soon because of Renee and Liah I started learning more about skincare and how to actually treat my skin properly.

I started researching on my own and learned about all the different ingredients and how they could help out my skin. From that moment on, I started making some changes, such as, using more gentle products, truly taking care of my skin barrier, using a low pH cleanser and switching from physical exfoliants to chemical ones. I even incorporated oils like Rosehip Seed Oil that Liah recommended for oily and acne-prone skin - it ended up working wonders for me! It's incredible what happens when you truly learn what is best for your skin! In the past you would never, EVER catch me ever skipping a step in my skincare routine, but now I mix it up to use what I need and I've never looked back since!

Products I Can't Live Without
I definitely can't live without these products...
Oils: As for oils, I specifically love the Indie Lee Squalane Oil and Leo Oil from @leowithcancer on Instagram.   
Serum: I love the KraveBeauty Great Barrier Relief because the tamanu oil heals my skin (I'm going to be needing a new bottle soon, that's how much I love it).
Chemical Exfoliator: Other than the serum, I also LOVE the KraveBeauty Kale-Lalu-yAHA since glycolic acid seriously works wonders for my skin! This has the perfect percentage of AHA and doesn't over-exfoliate the skin yet still helps to even out skin texture.
Vitamin C: I've been enjoying the Youth to the People Dream Mask
Ceramide Products: The Cosrx Ceramide Cream is amazing!
Current Skincare Product
My skincare routine definitely changes a lot! I do a weekly #routinerotation where I try to switch out some of my products each week so I can use up everything I have. But here are some stand out products I use in my AM and PM routine!
AM:
Cleanse with water

The Ordinary Caffeine Solution

The Ordinary Hyaluronic Acid Serum

Saturday Skin Wide Awake Eye Cream

Saturday Skin Essence Mist

FRÉ Protect Me Moisturizers SPF 30 mixed with First Aid Beauty Coconut Water Cream

Pixi DetoxifEYE Undereye Patches (if I have time)
PM:
Glossier Milky Jelly Cleanser
Youth to the People Eye Cream
Fourth Ray Beauty Rainfall Hyaluronic Acid Serum
First Aid Beauty Ultra Repair Cream
Indie Lee Squalene Oil mixed with Leo Oil
Bite Beauty Agave+ Nighttime Lip Therapy

What #PressReset Means To Me
I think for me #PressReset is a way of refocusing my energy. I'm a full-time student, with a photography job and I run my own beauty account. I could be stressed out, doing a million things at once and doing the bare minimum in the self-care department and just constantly going. But then I take a moment to pause, catch my breath, do some self-care, and take time for myself. That's #PressReset to me. Once I start forgetting to do things for myself and am not making time for things that are just fun, that's when I know it's time to reset. In terms of beauty, it means even just adding a face mask and taking that extra 10 minutes in a day to just treat myself and not do any work in that moment.


How I #PressReset Beyond Beauty
I think I really need to apply this mentality more. I'm finishing up school and about to move to NYC (yay!). With so many changes happening in my life, sometimes, I forget to just take a minute and appreciate what's happening in the moment and breathe. I'm going to try to always keep this in the back of my mind as I get busier and busier. Sometimes you need to take a vacation or a mental health day and watch mindless TV or take a nap. And it's when I forget to do these small things and #PressReset on the noise that I see it in myself and in my skin – I'll start to get pimples, stressed/red skin, dry skin, etc. I think #PressReset is like a mini new beginning that transcends across all aspects of your life.
What I've Been Loving
Nudestix Nudies Matte All Over Bronze Color in Sunkissed is THE perfect all over shade –blush, bronzer, eyes, lips. All of it!
MARINA new Love + Fear Album
I went on a study abroad trip to Denmark and Copenhagen is my favorite place on earth. It was the happiest and most at-peace I have ever been when I was there.
I love Blogilates! She has the best workout videos and they're free since they're on YouTube!
My Nespresso Machine is my baby. I'm basically an at-home barista now.
Want to learn more about Ellie and her skin journey? Follow her on social media:
Instagram: @breakfastatellies