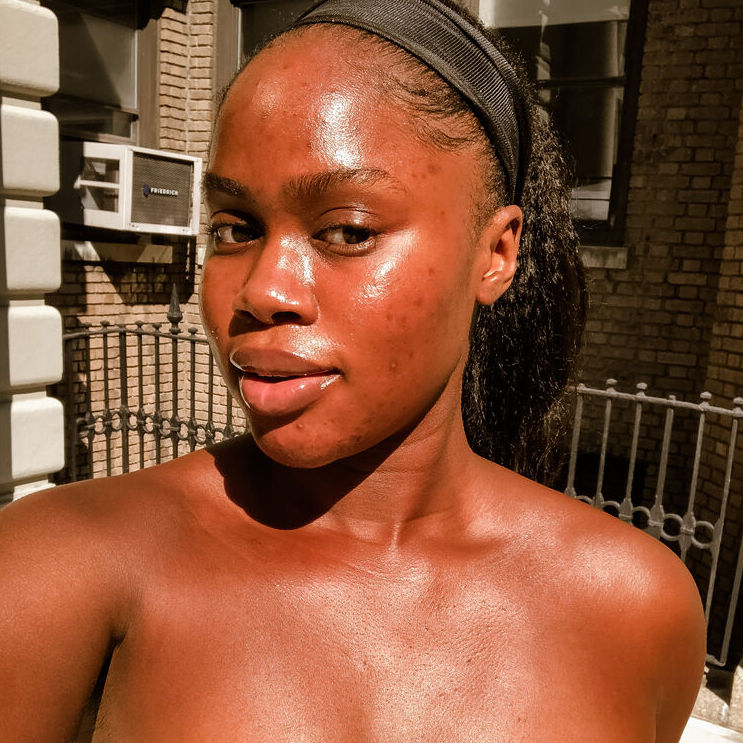 KraveBeauty 101
#PressReset Diaries: Meet Eni, Law Student & Beauty Blogger
Full Name: Eni Popoola 
Instagram: @enigivensunday
Occupation: Full-time Law Student
Location: New York, NY
Age: 25
Skin Type or Concerns: Acne and hyperpigmentation
Life Motto: What's meant for me will be mine.
Fun Fact: I really wish I had a fun fact. The best I've got is the fact that I studied Yoruba (a language named after the Nigerian tribe my family is from) in college for four years and I'm pretty decent at speaking and understanding it.
Hello beautiful people! I'm Eni and I am so excited to chat with you about my skin journey. I've definitely come a long way over the years, and I've also learned a lot about myself on the way. And of course, I'll share details on some of my current skincare favorites too. Let's get into it, shall we?
My Skin Journey | Let's start from the beginning

Where do I even start! Before I can even get into the struggles I've had with my skin, I have to talk about the struggles I had when it came to even thinking about my skin. I went to see a dermatologist for the first time when I was 22 primarily because I wanted to address hyperpigmentation. It was empowering to be able to go to a dermatologist who was a Black woman that my coworker recommended. It was surprising though that she was almost immediately able to tell me that I had acne.
It sounds pretty obvious looking back on it, but out of fear of being labeled as someone with acne, I ignored the problem of breakouts and focused on what they left behind, not knowing that in order to have healthy skin, I'd have to acknowledge the root of the problem. This experience has taught me two things: first, representation in the professional skincare industry is so meaningful, and second, I would have never been able to begin the process of having healthier skin if I didn't come to terms with its current condition. Labels can be scary and discouraging, so much so that I viewed myself as someone that had breakouts occasionally, but never described myself as having acne because of the stigma often attached to that. But learning more about the condition of my skin was what set me on a path of choosing products with the right ingredients for my concerns. After using prescription products for some time, my skin became the healthiest and clearest that I had ever seen it.
Today, the stress of law school makes it difficult for me to have "perfectly" clear skin. I'm still dealing with acne, but I know that a cystic pimple here or there doesn't mean that I have overall unhealthy skin. I'm human and my skin will always reflect that. As always, the goal is healthy skin not perfect skin. 
Skincare Products I Can't Live Without
Right now, I can't live without the KraveBeauty Great Barrier Relief serum. As someone who uses prescription products, my skin can become very sensitive or irritated due to the harshness of active ingredients like tretinoin or benzoyl peroxide. Earlier in the summer, I realized that the breakouts I thought I had been treating with exfoliants and tretinoin, were actually the result of overloading and over-exfoliating my skin. That was when I immediately stepped into reset mode and halted all products with strong active ingredients so that I could focus on repairing my skin's barrier. It took no more than 3 days of using GBR for me to notice that the small bumps on my cheeks subside. My skin felt less irritated and looked less red. Now, I still use it every day both morning and night. 
Other products that are currently can't live without are KraveBeauty's The Beet Shield, Indie Lee's Daily Vitamin Infusion, and Sunday Riley's Tidal Cream. 

My Current Skincare Routine

As a self-proclaimed skincare product junkie, I've had to push myself to significantly reduce the number of steps in my routine. In the morning, my primary focus for a skincare routine is hydration and nourishment while potentially targeting some of my hyperpigmentation concerns. Most of the products I use in the AM have some ingredients to brighten the skin, but they aren't aggressive and do a pretty good job of hydrating as well. 
On most days lately, my AM skincare routine consists of the following: 
Cleanser: Rosen Skincare Super Smoothie Cleanser
Toner: Rosen Skincare Tropic Toner
Treatment (1-3x/week): "Onexton" ( a prescribed mix of Benzoyl Peroxide and Clindamycin)
Serums: Indie Lee Daily Vitamin Infusion, Indie Lee I-Waken Eye Serum, KraveBeauty Great Barrier Relief, Get Hyper Vitamin C Serum (Vitamin C only on days when I am not using prescription products)
Moisturizer: Sunday Riley Tidal Brightening Cream 
Sunscreen: KraveBeauty The Beet Shield 
In the evenings, I like to keep it simple as well because there's usually some treatment that's the star of the show. The focus for my PM skincare routine is to wash off dirt, oils, and debris that might have built up during the day and to treat any concerns through prescription products or an exfoliant. 
On most days lately, my PM skincare routine consists of the following: 
Oil Cleanse: Absolute Joi Moringa Facial Cleansing Oil 
Cleanse: Rosen Skincare Super Smoothie Cleanser
Exfoliate (1x/week): Dr. Dennis Gross Extra Strength Daily Peel 
Treatment (1-3x/week--never on an exfoliation day): Prescribed Tretinoin 
Moisturizer: KraveBeauty Great Barrier Relief 
What #PressReset Means to Me

To me, first and foremost, "Press Reset" means coming to terms with the fact that I need a rest in the first place. Oftentimes that requires paying attention and getting real with myself about where I am and what I need. For example, in order to press reset this past summer when I was over-exfoliating my skin, I had to come to terms with the fact that I was doing a little too much, and my skin was not getting any better. If anything, it was getting worse. Pressing reset requires an acknowledgment on my part that I'm not content with the way things currently are. It's hard to describe but a lot of times that means knowing when I'm feeling "off". Once I take the step of acknowledging an area of discontent in my routines, I can get more comfortable with pressing reset.
How I #PressReset Beyond Beauty

Beyond skincare, I Press Reset on my sleep schedule, my work ethic, my fitness routine, and my organization just to name a few areas. Almost all resets in my life involve a planner or a notebook. I'm someone who really benefits from writing things down to help me process and internalize what it is that's on my mind. That may look like writing out a to-do list, taking a moment to organize my planner, setting alarms for when I should be getting to bed instead of scrolling on my phone (yikes), and letting a friend know what I'm hoping to work on so they can hold me accountable.


What I've Been Loving 

Makeup
I've really fallen back in love with Pat McGrath's complexion products, especially the Sublime Foundation. I got this around the time it initially launched last year however, I didn't really get a chance to wear it out often. Now I'm able to see that it's also a great lightweight but buildable foundation to wear in the summer and I've been obsessed!

Books/Music
I'm currently reading a book called "Stop Telling Women to Smile" by Tatyana Fazlizadeh and a lot of the stories I'm reading have resonated deeply. As a native New Yorker, I am no stranger to the realities of street harassment, and unfortunately, summertime is an infamous time of catcalling and harassment, even in a pandemic. While it is great for me to read a book full of shared experiences, I hope this book can also get into the hands of those who are perpetrators or onlookers to street harassment.

Places
My favorite place that I "visited" in August was my family home in Queens. I still haven't traveled anywhere due to COVID-19, however, I am grateful to live in a city with my family nearby and thoroughly appreciate the opportunities I have to "travel" from Harlem to Queens to see my family when I can.