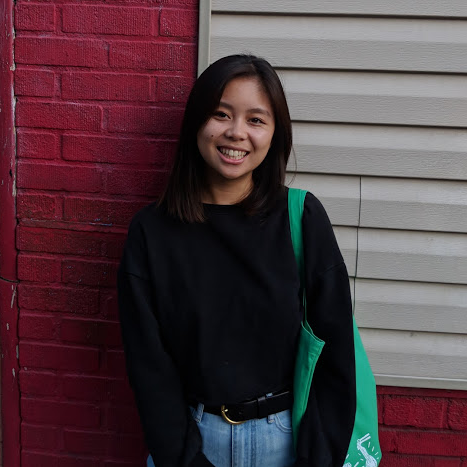 KraveBeauty 101
#PressReset Diaries: Meet Irena, Freelance Graphic Designer
Full Name: Irena Xia
Occupation: I'm a freelance designer!
Location: Brooklyn, NY!
Age: 23
Skin Type or Concerns: Super dry skin, acne, and hyperpigmentation.
Life Motto: "There's always room for dessert."
Fun Fact: I'm a stationery addict and have way too many notebooks for one person.

Hi, everyone! My name is Irena. I'm a graphic designer at KraveBeauty and I'm really excited to share with you a peek into my skin journey.
My Skin Journey | Let's start from the beginning

For most of my life, I was blessed with pretty good skin! I had some dryness and redness, but I never had to think too much about it. My skincare routine was a fun and relaxing ritual, more than anything else.
However, when 2019 rolled around, something changed. Whether it was my body eventually catching up to my new life in this new city or the stress of adulthood finally taking hold, I saw drastic changes in my skin. I started breaking out all over my face, mostly concentrated on my chin and forehead. My already dry skin got even drier and I often found huge flakes just sitting on my cheeks (gross, I know). In the mornings, after a routine of supposedly nourishing serums and moisturizers, I'd find my skin feeling tight with dry patches peeking out just an hour later. And inevitably, all the acne and dry skin left lots of hyperpigmentation.
I thought that this would just be a random, weird skin phase I was going through, but nearly eight months later, the acne remains (though it's calmed down a lot) and I'm still looking for the right combination of products to truly retain moisture in my skin. 

Skincare Products I Can't Live Without
Krave Beauty Kale-Lalu-yAHA:

The discovery of this product was the first step in finally feeling like I regained control over my skin. I've tried so many different types of exfoliators in the past, but this one has really changed the game! 

Facial oils:

I'm still figuring out which particular oil is my favorite, but in general, my skin has felt so much more hydrated and calm since adding them to my routine.

Sunscreen:

Always! Protect! Your! Skin!

My Current Skincare Routine

AM Routine: 
Cleanse: KraveBeauty Matcha Hemp Hydrating Cleanser
Serum: Klairs Rich Moist Soothing Serum
Oil: The Ordinary 100% Plant-Derived Squalane
Moisturizer: First Aid Beauty Ultra Repair Cream Intense Hydration
Protect: KraveBeauty The Beet Shield
PM Routine: These are the general products that I use in my night routine! I tend to switch things up depending on how my skin is feeling.
First Cleanse: Vitabrid Daily-C Balancing Cleansing Balm
Second Cleanse: KraveBeauty Matcha Hemp Hydrating Cleanser
Exfoliate: KraveBeauty Kale-Lalu-yAHA
Toner: Klairs Supple Preparation Toner
Serum: Klairs Rich Moist Soothing Serum or Vitabrid Dual Serum
Oil: The Ordinary 100% Plant-Derived Squalane or Go-To Face Hero 
Eye Cream: Aromatica Argan Intensive Hydrating Eye Cream
Moisturizer: First Aid Beauty Ultra Repair Cream Intense Hydration or Cosrx Advanced Snail 92 All In One Cream
Lip balm: DHC Lip Cream

What #PressReset Means to Me

To me, #PressReset means giving yourself room to breathe. It means eliminating excess in your life (whether it's having too many steps in your skincare routine or too many thoughts spiraling in your head) to give you enough space to tune into what you really need. 

How I #PressReset Beyond Beauty

There are two main things I like to do to #PressReset: journaling and going for a walk! Journaling is one of the best ways I can braindump my thoughts and organize them. It really helps me hone in on what's going on in my head and what I can do to alleviate any stress or tension. If I have the time, going for a walk right after a solid journaling session is one of the most refreshing ways to #PressReset. Being outside and feeling my body move can really get me out of any sort of mental bubble. Something as simple as feeling the warmth of the sun or a slight breeze in the air really soothes me. 

What I've Been Loving 

Makeup
I've been loving the Sunnies Face Lip Dip in Terracotta!

Books/Music
I finally finished reading Trick Mirror by Jia Tolentino! If you haven't read or heard about this book yet, what are you doing?! Go pick it now. You can thank me later.

Places
Domino Park in Williamsburg! Since it's been getting cooler in the evenings, the park has gotten much quieter. I've really loved taking evening walks to the park to see the sunset over Manhattan and the East River.