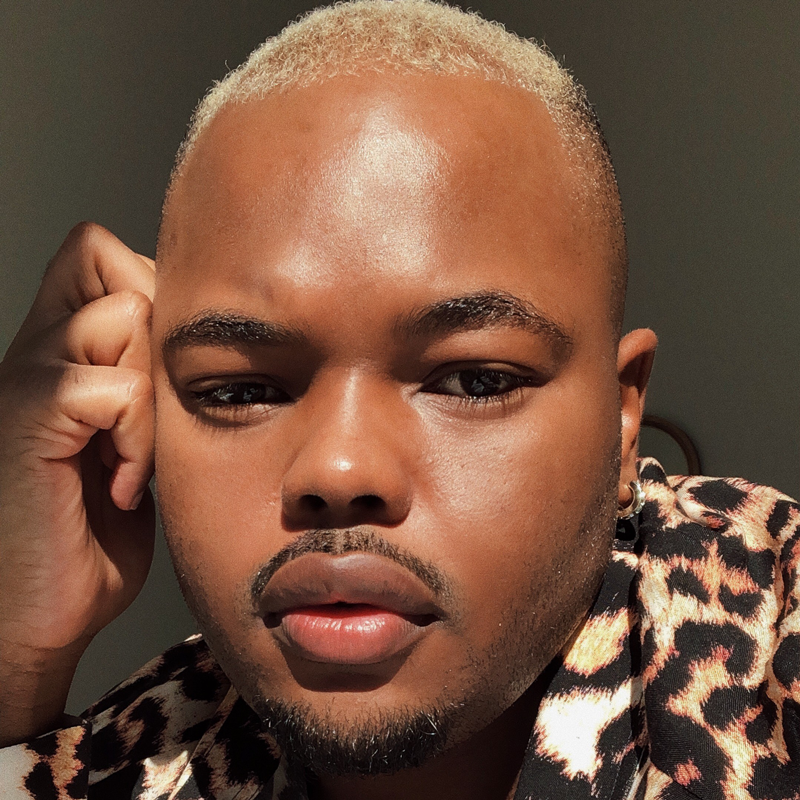 KraveBeauty 101
#PressReset Diaries: Meet Sean, Licensed Esthetician & Blogger
Full Name: Sean Garrette 
Occupation: I'm a Licensed Esthetician and Skin Care Specialist
Location: New York, NY
Age: 28 years old
Skin Concerns: I have dry/combo skin. My t-zone is moderately oily but my nose is extremely oily. My current skin condition I'm working on is hyperpigmentation from past acne lesions. I'm always working to refine the texture and tone of my skin.
Life Motto: That what is meant for me, is meant for me. And no person can change that. 
Fun Fact: When I first moved to Los Angeles, the first week I was there I was an extra as a part of a reality show. It was really weird but also kind of fun being able to see how these shows are filmed behind the scenes.

Hello! Its Sean Garrette, I'm a licensed Esthetician and Skincare Blogger. Today in my #PressReset Diaries I'll be sharing what led me into my career in skincare, the products that I can't live without, music I'm currently obsessed with, sharing my extensive and structured skincare routine and how I #PressReset on life. 

My Skin Journey | Let's start from the beginning

My skincare journey started pretty late in life. I've always had pretty good skin until I turned 21. Around that time, my body had gone through a full transformation. I started my weight loss journey and lost about 150 pounds. My diet and lifestyle completely changed and I also experienced some hormonal changes as well. I thought this change of eating better and exercising more would cause my skin to be even better, but it was like going through puberty all over again. Of course, I freaked out and began researching acne solutions, products, and treatments. This all led me to follow the Acne.org system. That completely changed my life and my skin for better and worst. My acne had cleared but, because I was using Benzoyl Peroxide so often my skin barrier was a little sensitized and very dry. 
Over the next few years, I'd learn even more about skin and the importance of hydration, and protecting and nourishing your skin barrier. Today, I still struggle with breakouts here and there but they aren't nearly as bad as they were a few years ago. My main concerns now would be hyperpigmentation, evening my skin tone, texture, and anti-aging. So every step in my current skincare routine is targeted to address these issues and skin concerns.

Skincare Products I Can't Live Without
Because of my job, I get to try a lot of products and new launches on the market. But there are a few that are absolute staples in my skincare routine. 
PCA Creamy Cleanser

- This is perfect for my dry/combo skin. It's incredibly nourishing, hydrating, and deeply cleanses and removes all sunscreen, makeup, and impurities that are collected on the skin throughout the day.

Indie Lee CoQ-10 Toner

- This is one of my favorite hydrating toners. It's

an alcohol-free toner that hydrates soothes, and protects all skin types with antioxidant coenzyme Q10 and hyaluronic acid.

Paula's Choice Skin Perfecting BHA 2% Liquid

- This is a holy grail product for me. It's completely transformed my skin and has improved the texture and tone of skin. Also, I shave pretty frequently and this helps me avoid any razor bumps and ingrown hairs after shaving. 

Paula's Choice Azelaic Acid Booster

- Another holy grail product for me. I've gone through maybe 3-4 of these tubes this year. Azelaic Acid is incredible at evening texture on the skin, diminishing acne scarring, and post-inflammatory hyperpigmentation. 

Hyaluronic Acid/Hydrating Serums

: Hydration is key to having a healthy skin barrier and healthy glowing skin. There are so many that I love like: Peach & Lily's Glass Skin Refining Serum, The Inkey List Hyaluronic Acid Serum, and Dr. Roebucks Ningaloo Serum. 

The Ordinary Mandelic Acid

- This is one of the best exfoliants I've ever tried. Mandelic acid is perfect for all skin types and skin tones but, especially on skin of color. It works on the top layer of the skin to get rid of texture, hyperpigmentation and evens the skin tone. This has been my secret weapon this year. 

KraveBeauty Great Barrier Relief:

This serum has been a godsend for me and my skin barrier this year. The first time I tried it I didn't get along with it but, by the second and third use, I was hooked. If you have a compromised skin barrier, dry skin, eczema, dermatitis, this is the serum for you. It's specifically made to press reset on your skin and help protect and build your skin's outermost protective layer. 

KraveBeauty The Beet Shield

-  This is the best SPF that I've ever tried. It's hydrating, non-greasy, full of antioxidants and nourishing ingredients. I think it works for every skin type as it leaves you with a gorgeous glass skin glow but feels like nothing on the skin. 

My Current Skincare Routine

My skincare routine is pretty extensive. In the mornings I try to simplify my routine as much as possible and stick to the basics. But at night my routine is pretty intense. My night routine is all about repairing and regeneration. I want to cleanse my skin of all impurities that have been built upon the skin throughout the day and infuse hydration and moisture back into my skin.

AM Routine: 
I cleanse with a gentle cleanser like KraveBeauty's Matcha Hemp Hydrating Cleanser. I'll tone with a hydrating cleanser like the Indie Lee Toner or I'll use any hydrating facial mist I have on hand at the time. Some mornings I will use my BHA liquid and sometimes I'll skip it if I feel like my skin doesn't need it. Then I move on to hydrating and antioxidant serums. I always apply my serums from thinnest to thickest and always on damp skin. I always apply my serums onto damp skin because it helps facilitate the penetration of the serums and allows it to absorb into the skin easier.  My current antioxidant serums I'm rotating in the morning are Paula's Choice Antioxidant Pore Purifier and Summer Fridays CC Me Vitamin C Serum, which is a great vitamin c serum if you're sensitive to other vitamin c products. After my serums, I'll mist my face again, apply my moisturizer, facial oil and lastly, my SPF. I'm currently loving BeautyBio's The Ultimate Hydrating Vitamin C Facial Moisturizer and for SPF it's The Beet Shield but I'm currently out, so I've been using another favorite which is the Paula's Choice Youth Extending Daily Hydrating Fluid. 
PM Routine: 
I double cleanse with an oil or cream cleanser first and then a gel cleanser as a second cleanser. As my first cleanser, I've been loving the Seaberry Skin Nutrition Cleansing Oil by Fresh Beauty. as a second cleanse my go-to is the Renewing SA Cleanser by CeraVe. I'll tone with hydrating toner, then I'll move on to my exfoliating steps. Exfoliation is one of my favorite steps as it always yields instant results. The key is to not over-exfoliate the skin as it'll cause more issues and damage to skin than help. I limit exfoliation to about 3 times a week. Some of my favorites are KraveBeauty's Kale-Lalu-yAHA exfoliating toner, Dr. Dennis Gross Universal Exfoliating Pads, The Ordinary's Mandelic Acid and Youth To The People's Exfoliation Power Toner. On nights that I'm not exfoliating, I'll use retinol about 2-3 times a week. My favorite retinol currently is the R45 Reversal 3-phase System. It comes with a growth factor serum that you mix with retinol to make it less irritable and more hydrating. About three nights out of the week I'll do an LED light therapy treatment using my Eterno LED Device. 
Some nights I'll do a face mask or sheet mask. If not, then I'll move into my hydrating steps which include an essence, antioxidant serums, hydrating serums. My two favorite essences of the moment are Amorepacific's Single Vintage Extract Essence and Fresh Beauty's Black Tea Kombucha Facial Essence. For my hydrating serum, I've been loving the Dr. Roebuck Ningaloo Serums. Some nights I'll use KraveBeauty's Great Barrier Relief mixed with Azelaic Acid, then layer a moisturizer and oil over it to seal everything in. 

What #PressReset Means to Me

#PressReset to me means taking a step back to breathe and allowing myself to escape from everyday stressors of life. Because of my job and the fact that I now work for myself, I have to find time to press reset and take breaks from my work and people. I'm engaging IRL and online all day and that can become overwhelming and stressful. Sometimes you just need to unplug yourself from the work and social media and let your mind rest.

How I #PressReset Beyond Beauty

Beyond Beauty, I #PressReset on stress and anxiety. A lot of my stress stems from being overwhelmed and overloading myself with work and stretching myself too thin. The best remedy for this is putting my phone on DND and doing something for myself. It could be cooking, listening to my favorite podcast, or even rearranging my living space. Anything that takes my mind off of work and keeps my offline.

What I've Been Loving 

Makeup
I don't wear makeup very often. Hardly ever, but my favorite products have been NARS Soft Matte Concealer to cover any blemishes or dark circles from sleepless nights. Anastasia Beverly Hills Clear Brow Gel, Laneige Lip Glowy Balms, Fenty Beauty Bronzing powders for a little faux sunburn.

Books/Music
Haven't read any new books but, musically: Summer Walker's new album "Over It", Dua Lipa "Don't Start Now", Tinashe "Touch & Go".

Places
My Office. Literally the only place I've been this month LOL - I've been back and forth to New York for the past few months as I'm preparing to move in 2020 but, other than that - just in my office working. Hopefully that'll change soon!