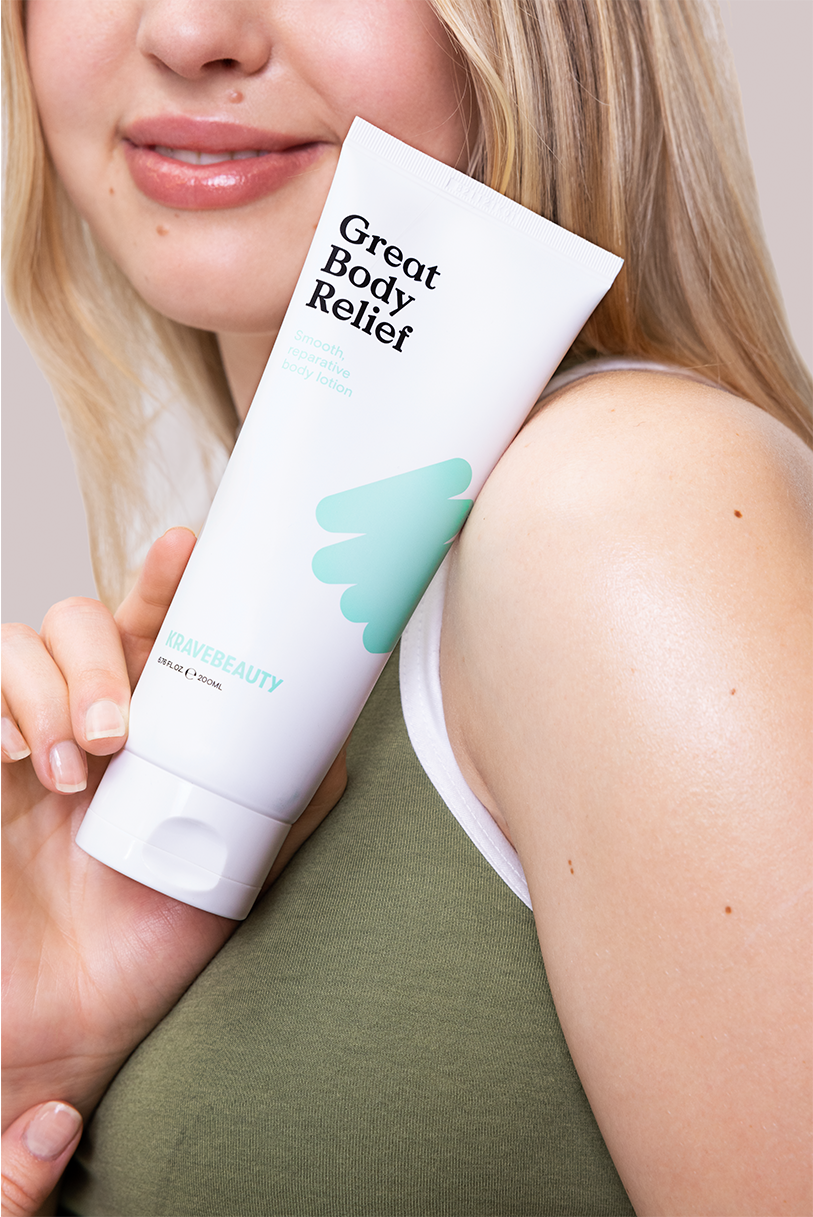 KraveBeauty 101
9 Things to Know About Great Body Relief
You asked, we answered! Here's everything you need to know about Great Body Relief:
What are the main ingredients in Great Body Relief?

5% tamanu oil soothes irritation and calms redness without feeling greasy
Fermented oil blend (including rosehip and squalane oil) works to condition the skin and reduce transepidermal water loss
Ceramides (essential to skin health) help to replenish the fatty "building" blocks of the skin barrier
Glycerin works as a humectant to attract moisture, softening rough skin texture and keeping the skin hydrated

What's the scent like for Great Body Relief?

It's an earthy, nutty scent that can either be a hit-or-miss depending on your scent preferences. Either way, the scent fades quickly and won't linger throughout the day!

Can I use Great Body Relief on my face?

Great Body Relief is specifically developed to soothe and calm compromised skin barrier conditions on your body. For the face, if you're looking for an intensive repair to restore the compromised skin barrier on your facial skin, we recommend you to try Great Barrier Relief, which is specifically designed to mimic the skin's natural moisture barrier.
Is Great Body Relief good for acne scars? Bacne?

Our customers have seen amazing results using Great Body Relief on trouble areas. For best results, we recommend using Kale-Lalu-yAHA to gently exfoliate the skin for Great Body Relief to penetrate deeper.

Can Great Body Relief help with eczema? Razor burn?

Yes! Great Body Relief is designed for those who have sensitive body skin conditions so it helps calm your skin. See what our customers have to say

Is Great Body Relief safe for tattoos?

Yes! One of our team members used it after getting a fresh tattoo and it even helped calm her skin.

Can I use Great Body Relief in the summer? I'm worried about it feeling too heavy or greasy for summer.

Great Body Relief is great for all year use! Usage can vary depending on the user's severity of body dryness, however, in most cases, Great Body Relief is light enough for summer months and nourishing enough for winter months. We formulated Great Body Relief specifically to be plush and fast-absorbing without any of the oily, greasy feeling.

Is Great Body Relief suitable for kids?

Great Body Relief is safe for use on kids and during pregnancy. Just be sure to patch test or check for any nut allergies as it does contain tamanu oil.

Does Great Body Relief work with my body's skin type?

Great Body Relief works for any skin type. Whether you're sensitive around the clock, have the occasional SOS moment, or just want a timeless body cream, Great Body Relief is there for you.
We hope we answered all your questions about Great Body Relief! Now try Great Body Relief for yourself.