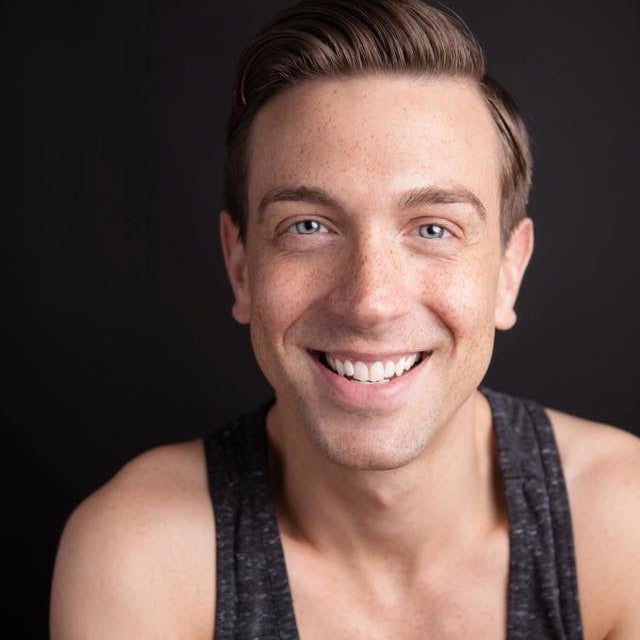 KraveBeauty 101
#PressReset Diaries: Meet Thomas, Performer & Yoga Enthusiast
Full Name: Thomas Murphy
Occupation: Actor's Equity Theatre Performer and Yoga Enthusiast 
Location: New York City
Age: 36
Skin Type or Concerns: Combination, acne-prone skin. Some parts can be oily, but mostly I deal with dryness at this point.
Life Motto: You are enough!
Fun Fact: I played the Cello for 10 years, but I can't read music... I play by ear! :)


Hi! I am Tom! I have performed and taught theatre for most of my life. More recently I have become passionate about yoga and skin care, and I am here to chat about my skin care journey, why I decided to press reset, and what products I love. I also will share a bit more with you all about what led me to my skincare journey in the first place and why I consider skin care a crucial part of self-care. :)


My Skin Journey | Let's start from the beginning
I never really thought about skin care growing up. It wasn't until my early 30's when I started to see signs of damage that I finally started to pay attention to my skin. I have combination skin and my main concerns are fine lines, sun damage, and acne. I have never been able to find what worked and I got a bit overwhelmed in the past. This is mainly because I lacked the knowledge to understand what my skin needed and I struggled to navigate a flooded market of products and their outrageous claims. It's hard to know what's marketing and what is quality. So, I started to do my own research, and I read articles that alarmed me about the effects the sun can have on your skin. That led me to YouTube and a bunch more self-conducted research regarding what is "best for your skin".

Through recommendations, I began with just a few products and ended up with 15+ before I knew it. Mostly this was just extra serums and a lot of different SPFs. I wasn't very careful about using SPF and started noticing dark spots and aging lines. I also was simply spending too much money on things I wasn't even sure I needed. Before this reset, I was a sucker for savvy marketing and pretty packaging. I didn't realize how much damage I was doing to my skin because I wasn't giving it a chance to show me how it felt and what it needed. Only when I took a huge step back was I able to understand my skin. It's taken about 5 years of trial and error (and finding KraveBeauty) to set me on the right path towards care for my body. 
Since pressing reset on my skin and life in this New Year, I have felt more comfortable with myself and feel more clarity when it comes to what works for me. I realized I was using too many things, over-moisturizing, and not using things in the proper order. Participating in the #PressResetChallenge throughout the month of January has allowed me to focus on minimizing cost and maximizing effectiveness. It's also reinforced how important daily self-care check-ins are. I couldn't be happier with the results.


Skincare Products I Can't Live Without

Once I found KraveBeauty I knew my skin was in 'the right hands'. My skin is extremely sensitive, so I can't live without the Matcha Hemp Hydrating Cleanser, Oat So Simple Water Cream, and The Beet Shield (my favorite!!!!).

I'm also a huge fan of Vichy Mineral 89 (a fragrance-free Hyaluronic Acid Serum) and Colorescience 3-1 SPF 35 for eyes. I also now focus on two actives - Vitamin C and Vitamin A, and lightly exfoliate once a week with the Kale-Lalu-yAHA, which is the only chemical exfoliant that my skin can handle!

My Current Skincare Routine

In the morning, I don't wash my face because I do an extensive double cleanse in the evening. I like to let my skin repair itself overnight and I try to avoid over-cleansing, which worsens my dry skin. 
Recently since partaking in KraveBeauty's #PressResetChallenge, I've been able to take out a bunch of serums and toners, and instead focus on hydration and effective actives!

AM routine:
Vichy Mineral 89 (on a wet face)
Biossance Vitamin C Oil

*I let that settle for 15-20 minutes*

KraveBeauty's The Beet Shield throughout the day 
PM routine:
Micellar Water (first cleanse)
KraveBeauty's Matcha Hemp Hydrating Cleanser (second cleanse)
Vichy Mineral 89 (on a wet face)
KraveBeauty's Oat So Simple Water Cream (sometimes I will double layer this in the evening)

*I let that settle for 30-60 minutes*

I apply my Prescription Tretinoin .025%/ Niacinamide 5% solution 15 minutes before bed 

*on nights I don't use Tretinoin I use KraveBeauty's Great Barrier Relief before the Oat So Simple Water Cream*




What #PressReset Means to Me
Pressing reset on my routine means cutting out the "filler" steps. Taking accountability for what, how, and when I purchase products. I feel it means making more proactive, informed, researched, and sustainable decisions when it comes to my skin's health. Furthermore, it has reminded me that at any time we have the power to get control back and how important informed decision making can be. 

How I #PressReset Beyond Beauty
I am very open with people about the fact that I grew up in a broken home and have clinical depression. I have spent many years working on that (with the usual ups and downs), and during a therapy session, I realized that I lacked a real self-care routine! I almost felt selfish about the prospect of taking some time out for skincare. I already had a daily yoga and meditation practice in place, but nothing else! In yoga we always speak of honoring the "highest version of yourself". After this session I thought "well…. maybe skin care is self care?". I started researching on YouTube and found that most of the people I was drawn to always spoke of skincare as if it's self-care (shoutout to Liah's morning routine videos!!!). It was like a lightbulb went off… here are people being mindful, working on themselves, being authentic and vulnerable, and sharing messages of self love and acceptance through mindful skincare. It felt like I finally found "my people". I saw it as a sign that I was headed in the right direction and ever since then beauty and self love have become one and the same to me. 
What I've Been Loving 

Makeup
I don't wear a ton of makeup off stage. I do, however, like to correct dark circles and bags under my eyes. So, I love Colorescience 3-1 Eye SPF (am) and NARS Radiant Creamy Concealer (pm). I also use Physician's Formula 'light' bronzer powder when I want to look sunkissed. :)



Books/Music
I recently re-visited my all-time favorite book "The Alchemist" by Paulo Coelho. Anytime anyone asks me for a book recommendation, this is my go-to! For a more recent title, I really loved Michelle Obama's autobiography "Becoming". I highly recommend the Audible version which she narrates! Inspiring is putting it lightly when it comes to experiencing her words! 

Places
I love visiting my extended family in Toronto whenever I can! Great food, theatre, and people! I also will always love Bermuda. It's a truly magical place. Of course… SPF in both places is Vital! ;)