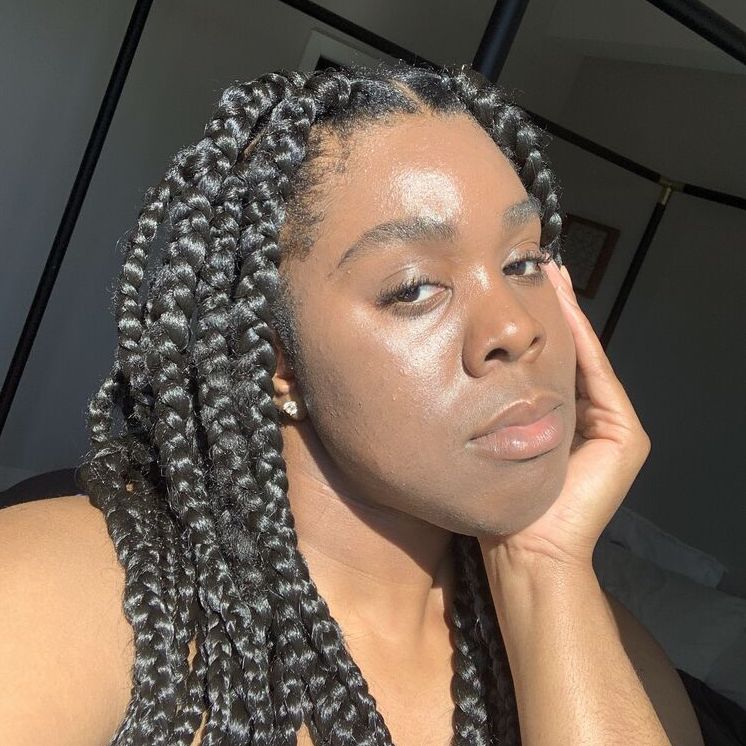 KraveBeauty 101
#PressReset Diaries: Meet Gabbii, Beauty Content Creator
Full Name: Gabrielle (Gabbii)
Occupation: Content Creator
Location: New York City, NY
Age: 24
Skin Concerns:  Acne Prone Combination skin; Concerns: hyperpigmentation and dehydration
Life Motto: Don't ever doubt your potential.
Fun Fact: Gosh I wish I had a hidden talent. I danced ballet from age 4 up until high school… Does that count?

Write an introductory paragraph that will explain who you are and what you will be talking about in this interview. Example: 
Hi guys, Gabbii here!! I'm going to take you through my skincare journey and talk about what makes me passionate about skincare. I will also be sharing some of the skincare products that are current staples in my routine.

My Skin Journey | Let's start from the beginning

I have struggled with my skin for as long as I can remember. In high school, I had very oily acne-prone skin. I tried just about every acne drugstore product under the sun, but nothing worked for me. Because I did not have much knowledge about skin care, I assumed that if I continued to use the products, my acne would correct over time. I was wrong. In college, I took the time to try different products and tried a more natural skincare approach. As pigmentation from acne scarring became my main concern, I was drawn to different products and remedies that were advertised to "brighten" the skin. I tried homemade face masks, and rubbing lemon on my skin. This did not work and made my skin more sensitive and pigmented in the process. Of course, I did not know this at the time, so I continued to try different things. Towards the end of 2018, my acne was under control, but my skin was the most blemished and pigmented it had ever been. At that point I decided to do more research and learn about what would be beneficial for treating my skin.
In January of 2019, I got a facial and the esthetician helped guide me on a product to help tackle my blackheads and pigmentation. At the time, I was also pursuing my Masters In Science degree. Part of my education involved biochemical processes of the body and physiology. A lot of the chemical components we learned about were actives that I have seen on skincare labels and in ingredients lists. The more I learned, the more curious I grew about how I could apply my knowledge to my skincare journey. I took the time to read more in my textbooks and in scientific articles about how certain ingredients work in the body and used this information to help guide my skincare purchases. This led me to try more antioxidant-rich skincare that boasts ingredients like Vitamin C, Vitamin E, and Coenzyme Q10. From there, my knowledge of skincare ingredients grew. I still took the time to experiment with products as they can act differently per person, but I became better able to make educated and targeted purchases.
Over the past year, I have seen improvements in my skin texture and pigmentation. Learning more about skincare and the ingredients involved has been absolutely paramount for my skin journey. I now have the ability to look at the current state of my skin and brainstorm the kind of product I want to use to treat it. My skin is the healthiest and glowiest that it has ever been. There is still so much work to be done, but I am so proud to see how far I have come and am excited to see how much further I can go!


Skincare Products I Can't Live Without

My skin has always been dehydrated but my moisture barrier was impaired after testing an exfoliating product. After seeing no results from another barrier repair serum, I  tried using the KraveBeauty Great Barrier Relief. Honestly, my skin has never been better. After about 3 weeks of using this serum both morning and night, my skin looked plumper and less textured. I honestly did not notice at first and one morning I was washing my face and couldn't help but stare at my skin. It was slightly unrecognizable.
Since I started using it, I do not go a day without using this serum. Since it is warmer out, I use the serum in my moisturizer step. In the evenings, I use the serum in addition to my KraveBeauty Matcha Hemp Hydrating Cleanser and a hydrating moisturizer. This serum is definitely a staple in my routine.

My Current Skincare Routine


My current routine focuses on hydration. I have found that while certain active ingredients and exfoliants are super beneficial for treating my skin, hydration is THE most important thing for my combination skin.

AM ROUTINE:
In the mornings, my skin can sometimes feel quite dry. On those few days, I sometimes opt to skip the cleansing step and apply hydrating serums, moisturizer, and sunscreen. Other days I use the below products:
Cleanser: Cerave Hydrating Cleanser
Toner: Indie Lee CoQ 10 Toner
Serums: Paula's Choice Antioxidant Pore Purifier
The Inkey List Hyaluronic Acid
KraveBeauty Great Barrier Relief 
Moisturizer (some days): Youth To the People Adaptogen Deep Moisture Cream
Sunscreen: KraveBeauty The Beet Shield or Elta MD UV Clear SPF 46
PM ROUTINE:
Towards the end of the day, I usually have sunscreen, makeup, and oils on my face. I prefer to double cleanse nightly to help remove product and dirt buildup. This leaves a great foundation for my cleanser. I then follow with exfoliation (2x/week) and hydrating products to help keep my barrier healthy and intact. 
Oil Cleanser: Dermalogica Precleanse OR The Ordinary Squalane Cleanser
Cleanser: KraveBeauty Matcha Hemp Hydrating Cleanser
Exfoliant (2x/week): The Ordinary Mandelic Acid OR Dr. Dennis Gross Alpha Beta Universal Daily Peels 
Mask (as needed): The Ordinary Salicylic Acid 2% Masque
Toner: Paula's Choice Enriched Calming Toner
Serums: Paula's Choice Calm Repairing Serum
KraveBeauty Great Barrier Relief
Moisturizer: Milk Makeup Vegan Milk Moisturizer
My routine is constantly changing. I tend to switch out treatment products that my skin no longer needs. I also change my routine with the season.


What #PressReset Means to Me

To me, Press Reset is a reminder to take things one step at a time. Sometimes, in the skincare world we get so tempted to try so many different products. I use the Press Reset mentality to take a break and see what the current state of my skin is and to consider what it might benefit from. This helps me better assess the products that I am using and determine what has really been working for my skin and what I might need to remove or add.


How I #PressReset Beyond Beauty

Beyond beauty, I Press Reset on stress. Sometimes I can involve myself in a lot and have multiple projects to do in a short amount of time. While I can become overwhelmed I remember to stop when I need to and take a break so that I can fully concentrate on the things I need to. 
Ways I Press Reset include taking a walk, exercising, or taking a candlelit bubble bath. Each of these I usually do while listening to some of my favorite tunes. Doing this every now and then allows me to relax and brainstorm better ways of planning or handling a situation.

What I've Been Loving 

Makeup
Since NY was under a Shelter in Place order, I have tried and worn less makeup, but one product I have been loving is the new Huda Beauty Legit Lashes Mascara!! I have extremely curly lashes and like to alternate between volume and length depending on the look I want.This product has 2 sides: one for volume and one for length. I love that I have both formulas so I can be more creative and strategic with my lash look without purchasing multiple mascaras!

Books/Music
I have not had the time to read books aside from textbooks. I plan on picking that back up now that I graduated!
An album that I have been loving is Chloe x Halle The Ungodly Hour. It is always on repeat. (No really, I played it for 3 hours straight one day!)

Places
Sadly COVID-19 hit NYC, so I have not been able to travel anywhere. But I have a new love for outdoor picnics. I love to grab a book, a few snacks, and bike to a park and just sit and relax for a few hours.