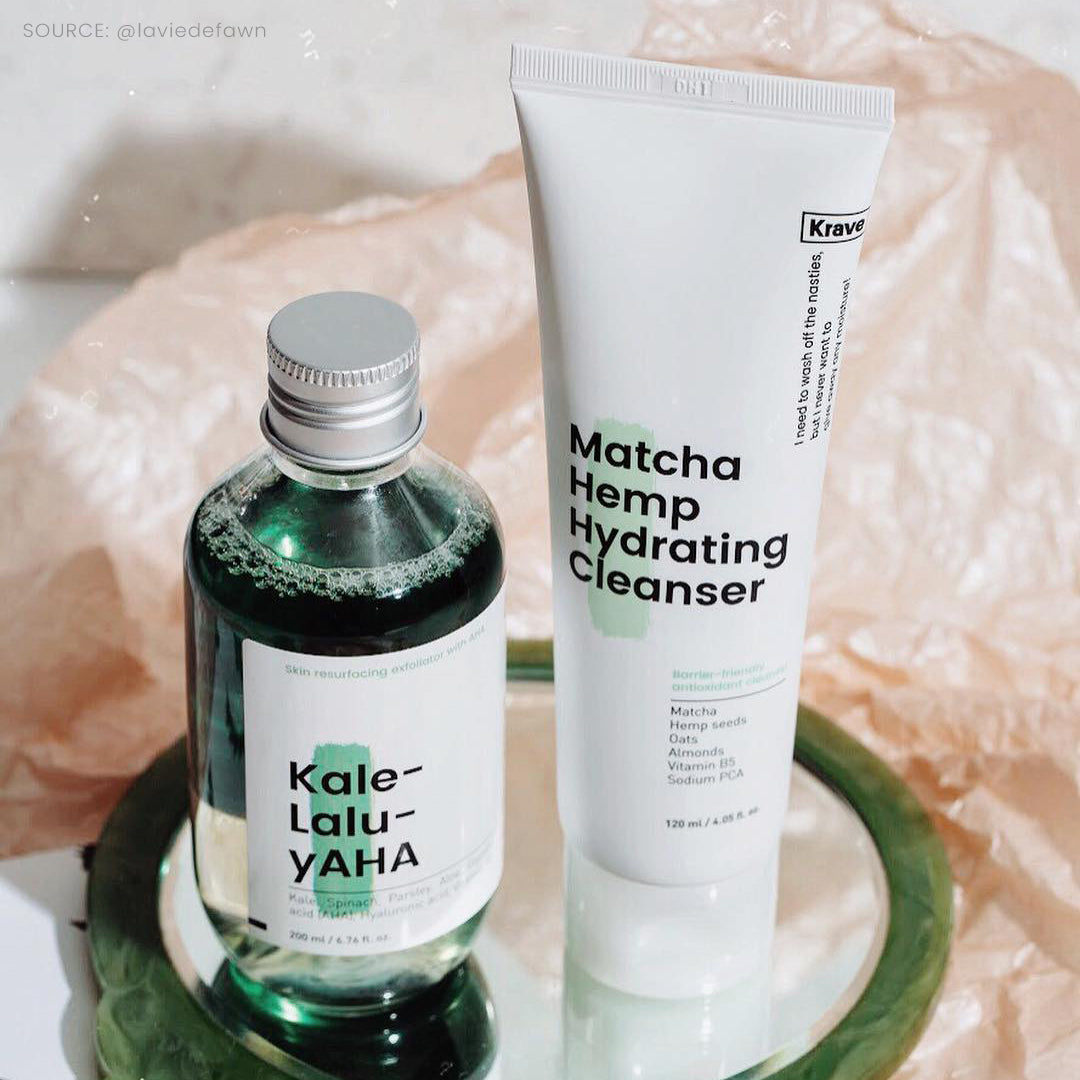 KraveBeauty 101
The Skincare Diet 101: How To Press Reset on Your Skincare Routine
To All the Skincare We've Used Before—we need to take a break.
We've tried to make things work, but it's just become too much for our skin to handle. Each new essence, serum, and cream that we added to our routines just gave us false hope for our skincare concerns, even making our skin more agitated and sensitized in the process. And with so many steps to keep track of, skincare has just become too complicated and simply… not. fun.
We deserve better. What our skin really needs right now is some time to heal and find itself again, so it's time for us to try something new. Goodbye 10 step skincare routine—we're taking the #SkincareDietChallenge.
Our skin is smarter than we think, so it really doesn't need a 10 step routine to look and perform at its best. That's why KraveBeauty is here with an easy as 1, 2, 3 guide to the #SkincareDietChallenge so that you can give your skin some time to find itself and remember how to do its job.
What is the #SkincareDietChallenge?
It's exactly what it sounds like — a "diet" for your skin. Through this challenge, you're cutting down your skincare routine to the basic essentials of cleansing, moisturizing, and protecting (using SPF). This skincare cleanse is all about giving your skin the chance to recover from its sensitive, irritated state after dealing with skincare product overload. Learn more about the Skincare Diet through Allure's recent article.
Let's break down the #SkinCareDietChallenge into three simple steps, shall we?
Step 1:  #PressReset on your current skincare routine (Skincare Fasting)
We're going to need to start off with a clean slate. This step is essential for rebuilding our skin's barrier, which may be damaged or compromised after handling so many products that it really didn't need. In other words, it's time to #PressReset on your skincare routine by prioritizing two skincare goals: hydration and recovery.
Here's what we recommend for morning and nighttime skincare fasting routines!
AM:
Step 1- Skip cleansing, or opt for a gentle, non-foaming cleansing gel such as our Matcha Hemp Hydrating Cleanser
Step 2- Hydrator/moisturizer
Step 3- SPF, SPF, SPF— because UV rays are NOT FRIENDLY!
PM:
Step 1- Double cleanse/cleanse off your SPF and makeup
Step 2- Hydrator/moisturizer + add oil if your skin is too dry
Stick to this phase for a month or more. And try making overall transformative lifestyle changes during this period by working on your diet, sleeping habits, and stress levels. Before you know it, your skin will be feeling happier, healthier, and overall more balanced, just the way it should be.
Step 2: Add a supplement! (targeted solution)
After your skin has calmed down, you're ready for step 2: adding supplements to your routine. This is the time for you to listen to what your skin craves and only add products that target your skin's true needs.
So if your skin is loving just cleansing and moisturizing, then there's no need to add another step!
Please be strategic about this— make sure to add one product at time, and slowly build the frequency and potency of the active ingredient as your skin can handle it. Rushing or overdoing this process will just bring you back to square one!
Some supplementary skincare product suggestions based on your skin cravings:
Dehydrated Skin- Humectants such as Hyaluronic Acid, Glycerin, Sodium PCA, Squalane Oil, or any other oil to compensate
Congested and Dull Skin- Occasional AHA exfoliation such as our Kale-lalu-yAHA
Oily, Acne Prone Skin- Niacinamide, zinc
Weakened Skin Barrier- Ceramides, Cholesterol, fatty acids such as facial oils
For overall skin's health- Antioxidants like Vitamin E or Vitamin C*
* Go for Vitamin C derivatives such as Magnesium Ascorbic phosphate or Sodium Ascorbic Phosphate instead of pure forms such as L-Ascorbic Acid or Ascorbic Acid that may irritate the skin further!
Step 3: Commit!
Throughout the #SkincareDietChallenge, you and your skincare products should act as if you're in a committed relationship — so no cheating! Trust the process and the products that you've whittled your routine down to because seeing results takes time. Give your skin the time it needs to adjust and embrace this healing process.
So, have you tried the #SkincareDietChallenge before? If so, please share your story in the comments so that you could empower others how it helped heal your skin💚