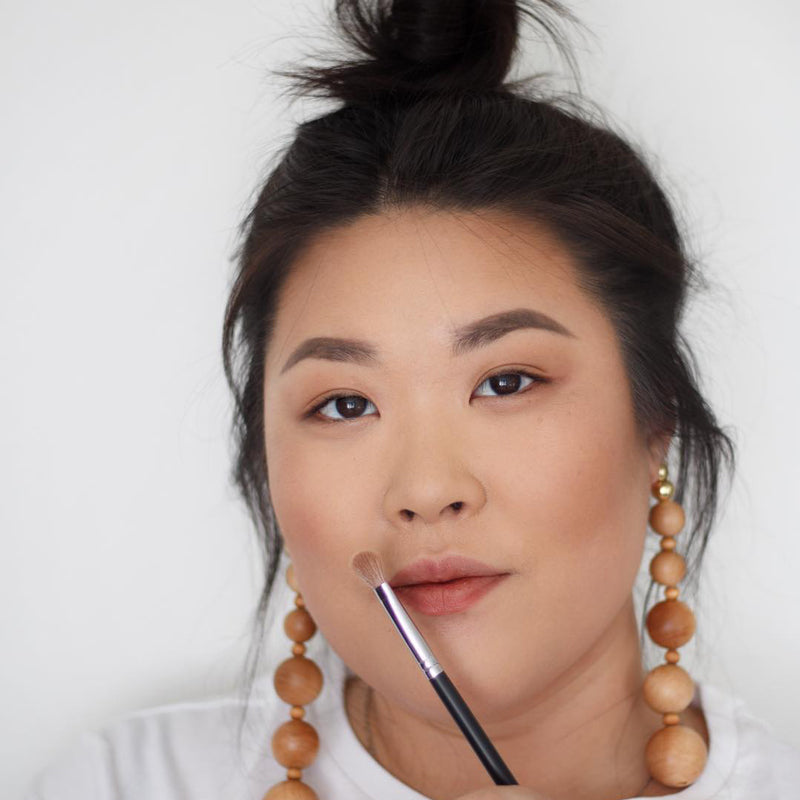 KraveBeauty 101
#PressReset Diaries: Meet Monica, Artist & Beauty Enthusiast
Full Name: Monica Joo
Occupation: Fabric Development and Production Manager
Location: NYC/Brooklyn
Age: 30
Skin Type or Concerns: Rosacea, aging, loss of firmness and elasticity, hormonal acne, hyperpigmentation
Life Motto: Keep going.
Fun Fact: I used to suck my thumb as a toddler. And when my grandma used to ask me what came out of there, I responded "chocolate milk."

Hi, this is Monica. I thought I'd share how my relationship with my skin deeply affected my mental health but how through skincare, I was able to reclaim and reestablish that relationship as one of self-love <3

My Skin Journey | Let's start from the beginning

My skin journey started with my relationship with my skin rather than skincare. 
The awareness that my skin was different than those of my peers didn't arise until I moved to the suburbs at the age of eleven. The girls in my class all seemed to have that perfectly smooth, blonde peach fuzz, airbrushed, magazine-worthy skin. I knew my rosacea skin was different, but I chose to believe it wasn't such a stark contrast until some kids asked about my personal hygiene. Kids thought the red splotches were from not cleansing my skin or thought I was winded or blushing from being out of shape. It made me feel less than my peers. That somehow it was my fault, that it was my decision to be different. 
Having grown up dancing and playing the piano, I started having to wear makeup for recitals and photo-ops at the young age of five. So, I always knew the potential of how I could look if only I could cover my imperfections everyday. Perhaps it would diminish the possibility of my being ridiculed for my skin. And isn't that all an eleven-year old really wants? To not be bullied and fit in? 


But, obviously, an eleven-year-old wearing makeup on the daily was not something my mom wanted. So, instead we struck up a compromise, and she put me on the ever so popular Clinique 3-step program. I was so proud of that little three-step kit. Not only did I believe it would magically erase the red blotchy patches that spread across my skin, but I also felt like an adult!
But as you can imagine, rosacea is not so easily combated. I spent all my teenage years covering up my inherited skin condition with makeup because even prescription creams and ointments did not help with the redness. This was all the while trying to suppress memories of kids saying "don't you wash your face?"
I eventually learned to love my rosacea and the fact that it gave me an interesting perspective on self-love and dealing with insecurity but not without bumps along the way. In high school, I had quite "normal" skin. I never had to worry about moisturizer and would just wash my face with a makeup wipe and warm water. But as I kept applying more and more makeup to cover up my rosacea, my skin started to evolve. I developed an oily t-zone and enlarged pores from improper care. And to combat that I turned even more towards makeup – powders, blotting papers, ultra-matte, full coverage foundations – than I did skincare. 
I never gave my skin a chance to breathe-- a true reflection of how I never let myself release or resolve any of the self-hate that I was harboring for my own skin. Eventually, I learned. By my early twenties, after a decade of weeding through my insecurities and self-hate, I started to reevaluate what it was that I was so rigorously trying to cover up and started one by one to replace makeup products with healthy mental, emotional and lifestyle exercises. And through that process my skincare journey was born. I took the time to research products that specifically targeted my skin concerns, and I really enjoyed seeing my skin react and change to the different products and care I was giving it.  Sometimes it would be great and sometimes it would be not so great, but through this process, I discovered not only how to take care of my skin, but also how unique my skin is and how much loved it.


Skincare Products I Can't Live Without
Cleansers - As someone who lives and works in the city and wears a full face of makeup 6 out of 7 days a week, my cleansing products are vital. 
Essence - A facial essence is a step that is (in my opinion) commonly overlooked, but it is my favorite part of my skincare routine. An essence is the first step to your facial treatment and acts as a booster to target specific skincare concerns, while priming your skin to best absorb the products to follow. SK-II Facial Treatment Essence
SK-II Facial Treatment Essence



Chemical Exfoliants – My skin has a very real reaction to pollution and congestion, so I use an AHA exfoliant twice daily and a stronger exfoliant once or twice a week (if that) based on what my skin needs.
BHA – Paula's Choice 2% BHA Liquid Exfoliant
Peter Thomas Roth Pumpkin Enzyme Mask
SPF – I am an equal proponent of cleansing the skin as I am of protecting it. Admittedly in my early 20's, I relied on the SPF in my makeup products, but when I hit mid 20's, I could see that I needed to make greater efforts. Though SPF has had a negative public image over the past decade, it's nice to see this turning around. SPF not only helps protect from sun damage, but it also helps prevent premature aging and boosts skin's overall health.
My Current Skincare Routine
I've been participating in KraveBeauty's #PressResetChallenge for the last month, so you will see a lot of KraveBeauty products. However, I've also added some of my fail-safe products for those of you who might be curious.

MORNING 
1. Cleanser: KraveBeauty Matcha Hemp Hydrating Cleanser
2. Exfoliant: KraveBeauty Kale-Lalu-Yaha
3. Essence: SK-II Facial Treatment Essence
4. Serum: KraveBeauty Great Barrier Relief (Alternative: Kiehl's Hydro-Plumping Re-texturizing Serum Concentrate)
5. Moisturizer: KraveBeauty Oat So Simple Water Cream mixed with 3-4 drops of Indie Lee's Squalane Facial Oil (Alternative: Tatcha The Indigo Cream)
6. Eye Cream: Kiehl's Wrinkle Reducing Eye Treatment to target my fine lines and loss of elasticity with Tatch Silk Peony Melting Eye Cream layered over top, to target my darkness and dullness.*
EVENING  
1. Pre-Cleanse: Dermalogica Pre-Cleanse Balm with a cleansing mitt
2. Cleanser: KraveBeauty Matcha Hemp Hydrating Cleanser (Alternative: SK-II Facial Treatment Cleansing Oil)
3. Exfoliant: KraveBeauty Kale-Lalu-Yaha
4. Essence: SK-II - Facial Treatment Essence
5. Serum: KraveBeauty The Great Barrier Relief (Alternative: Ole Henriksen Glow Cycle Retin-Alt Power Serum)
6. Moisturizer:  KraveBeauty Oat So Simple Water Cream (Alternative: Ole Henriksen Goodnight Glow Retin-Alt Sleeping Creme)
7. Eye Cream: Kiehl's Wrinkle Reducing Eye Treatment to target my fine lines and loss of elasticity with Tatch Silk Peony Melting Eye Cream layered over top, to target my darkness and dullness.*
8. Nighttime Oil: Niod Copper Amino Isolate Lipid 1%
* Like all skincare products, I don't believe there is one do-it-all eye product. So, like with my complexion products, I layer my eye creams to target specific concerns.

What #PressReset Means to Me
Press Reset is not just a mentality to me. It is the way I live life every day. It is not only taking a deep breather but really feeling the air enter your body and fill your lungs. Like many others, I struggle with anxiety and depression that unfortunately are deeply rooted. Growing up, and even through high school, going to therapy was still considered quite taboo. So while I recognized in myself many problems, I was not permitted to see a professional. It was to the point that even when teachers tried to intercede, I begged them not to, out of fear that I'd somehow get into more trouble. 
So for as long as I can remember, I actively sought airholes and spaces to breath. I found those places through creative spaces and channels that people (society, parents, peers) could not control. And through those mediums came self-reflection and awareness and healing, as well as some painful, lonely times of awakening. 
Press Reset is about checking in with you. 
Asking yourself – Are you ok? What do you need in this moment? What do you want? 
Telling yourself – We don't need to resolve it completely, but how can we take one healthy step forward?
It's about acknowledging that you are valuable, just as valuable as the people you yourself value. And finally taking action towards that acknowledgment.
How I #PressReset Beyond Beauty


Alone: spending hours reading, going to see a play or musical, listening to music and organizing my vinyl collection, spending all day Saturday playing with makeup, tidying up my apartment, taking long hot, soapy baths, going on aimless walks, deep-diving into the depths of the internet on some new and random something I've become fascinated with (most recently it's the Wu-Tang clan).

With the people I love: teasing my parents

just to get them to laugh, confiding in my brother, having amazing one-on-one heart-to-hearts, chilling out with friends, just feeling all of us love on each other in our own special ways.
What I've Been Loving 

Makeup

Milk Makeup Hydrating Grip Primer

Marc Jacobs Coconut Fantasy Dew Drops
Natasha Denona Contour Powder
NYX Micro Brow Pencil
Colourpop Cosmetics Super Shock Shadow in IDGAF

Books/Music
I have very eclectic tastes in all my interest; please bear with me 😉

Books:
Heartburn by Nora Ephron

The Murmur of Bees by Sofia Segovia
How to American by Jimmy O. Yang
Music: 
Jaz Karis – EP's: Summer Stories (specifically the song Summer Story) and Live at the Diary EP

B-52's – Album: Wild Planet
Eryn Allen Kane – songs: Fragile, Still in Love, Piano Song, Feel the Need, Now and Then
Vince Gauraldi Trio – Album: A Charlie Brown Christmas
Skip Marley & H.E.R – song: Slow Down
Masego: Album: Lady Lady

Places
I haven't been able to travel a lot this month so I thought I'd mention my favorite places from the past few months:
Paris, specifically Montemarte and the Marais – I've had the privilege of going to Paris a handful of times in my life, mostly for work. And this past October I was able to go after a two-year hiatus. I felt so nourished being there and just aimlessly walking the streets. Luckily I have a good friend who lives there and my best friend happened to be visiting at the same time, which made the trip even more special.

Bushwick – still exploring my neighborhood but a recent visit with my best friend made me appreciate it that much more.

The Brooklyn Museum – their vision says is all "where great art and courageous conversations are catalysts for a more connected, civil, and empathetic world"

The Guild (located in Soho, NY) – Truly a hidden gem in Soho. If you enjoy French cuisine and artisanal craftsmanship in home furnishings and ceramics, this is a must-visit.